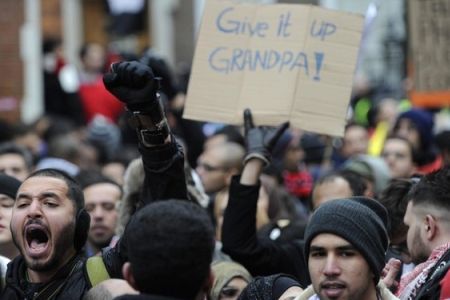 An Azerbaijani embassy worker has been killed in Egypt as the country is gripped by six days of bloody protests against the government of President Hosni Mubarak.
The man, who worked as an accountant at the Cairo embassy, was killed Saturday evening as he was returning home from work, an Azerbaijani foreign ministry spokesman told AFP on Sunday.
He could provide no further detail, although other reports said that the man had died of a gunshot wound.
In Egypt, the popular uprising against the government of Mubarak is continuing.
Reports say thousands of prisoners have escaped the detention facilities around Egypt during six days of anti-government protests that rocked the country following the revolution in Tunisia that led to the ouster of the Tunisian President Zine El Abidine Ben Ali.
The uprising also sent shockwaves across Arab and North African nations including Egypt, Yemen and Jordan.
Meanwhile, tens of thousands of protesters have defied the extended curfew in major cities in Egypt. Reports say government forces have opened fire on protesters in the port city of el-Arish.
More than 100 people have been killed and hundreds of others have been injured in six days of unrest in the North African nation.
Other reports say demonstrators are carrying the bodies of killed protesters to Cairo's Tahrir Square, a major protest site.
The protesters want Mubarak to step down. But the president has only sacked his cabinet and promised economic and political reforms.