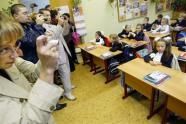 Moscow and two other cities shut their schools for a week Saturday and urged children not to play in groups in a bid to stamp out the worst flu outbreak to hit central Russia in more than a decade.
The Moscow education department's order covered more than 1,500 public and private elementary schools.
Education officials said this meant that nearly 500,000 children would get an unscheduled week-long vacation in the first such shutdown to strike the Russian capital since 1998.
"Even today, some classes are already missing half their students," an official with Moscow's health control service told the
Komsomolskaya Pravda
daily.
"The situation in Moscow is relatively favourable compared to what it is in the other regions" of central Russia, Alexander Gavrilov said.
Moscow's kindergartens would remain open and older children would not be affected. But officials have issued instruction for parents to take extra care with younger children and avoid spending too much time with them in public places.
"Children should avoid gathering in large groups if they can be avoided," Russia's chief sanitary doctor Gennady Onishchenko told Interfax.
He also recommended that Moscow adopt "long-distance Internet learning" while school was out.
The instructions were issued after schools reported empty class rooms in which lessons were being taught to just a handful of kids at a time.
"A lot of our students our out. So it just made sense to close the schools instead of teaching three or four kids and then having everyone else catch up," one Moscow school director told the
Moskovsky Komsomolets
newspaper.
Some education officials complained that Moscow schools were ill equipped to fight such outbreaks and that there was a general shortage of doctors on staff.
But the city defended itself against such criticism and said outbreaks occasionally happened no matter what.
"We have vaccinated an entire 30 percent (of the Moscow population) against the regular flu," the
Kommersant
business daily quoted the city's chief sanitary official as saying.
"We are working -- but we can provide no guarantees," Nikolai Filatov said.
Officials said that nearly 92,000 Muscovites are currently suffering from the flu or respiratory infections. More than 52,000 of them are children -- a 42 percent spike on previous years' averages.
Officials said some 300 schools had already closed their doors across Russia by Friday evening.
News reports said that a similar week-long closure has also been ordered in the industrial Ural city of Chelyabinsk and Russia's northern Far East town of Yakutsk
Other regions of central Russia were also shutting some of their schools for the week.
The outbreak was accompanied by new reports of the swine flu spreading through Moscow and other major cities.
There were were 93 H1N1 infections but no deaths reported in Moscow.
But RIA Novosti said that a two-year-old girl had died from the respiratory disease in the northwestern region of Murmansk and that a Ukrainian national had died in the central Russian city of Volgograd.