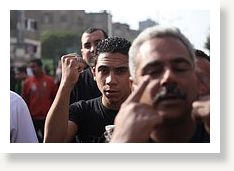 The Egyptian
uprising
against the Mubarak regime is historic and important in its own right. But it may also lead to significant changes in the region that could be positive for the Palestinian cause. Israel is
worried about a reliable ally
being toppled next door.
The Mubarak dictatorship is a core pillar of the U.S./Israeli order in the Middle East, an order that completely ignores the wishes and aspirations of people on the ground. The U.S. and Israel are scared of the new order that is to come.
As As'ad Abu Khalil
notes
at his blog, "the Israeli strategy in the Middle East has been firmly set on the continuity of the Sadat-Mubarak dictatorship." Israel's peace agreement with Egypt in 1979 removed a military threat to Israel and secured millions of U.S. dollars and military support for the Egyptian dictatorship. The Mubarak regime got carte blanche for its repressive rule.
Currently, there is extensive cooperation between Egypt and Israel. Cables obtained by WikiLeaks, and
published
by
Counterpunch
,
reveal
that the Israeli military coordinated bombing runs with the Egyptian military during the 2008-09 assault on Gaza and closed the Rafah border when told in advance that Israel's ground invasion was to begin. WikiLeaks' documents shed further light on Egypt currently
building a wall
meant to choke off smuggling tunnels into the Gaza Strip.
The fall of the Mubarak regime, which is what the youth revolt currently sweeping Egypt is calling for, could mean a number of things related to the siege of Gaza, continued efforts to crush Hamas and the political situation Israel finds itself in.
All told, what happens in Egypt will not stay in Egypt. It will have ripple effects across the Middle East, and especially in Israel/Palestine.