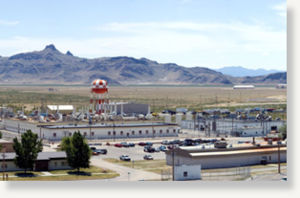 An overnight lockdown, triggered when vial of the deadly VX nerve agent went temporarily missing, was lifted early Thursday morning at Utah's sprawling, 801,000-acre Dugway Proving Ground.
Officials at the remote Army installation, 90 miles southwest of Salt Lake City in Utah's western desert, abruptly ordered gates closed at 5:24 p.m. Wednesday. Up to 1,500 employees of Dugway - military personnel, contractors and civilian workers - were forced to stay the night.
Dugway spokeswoman Paula Nicholson said Thursday that the lockdown was ordered after a "
routine inventory of sensitive material in the chemical laboratory. . . discovered a discrepancy between the records and the agent on-hand
. As a precaution, the commander immediately locked down the installation and began efforts to identify the cause of the discrepancy. "
The vial was located, uncompromised, at 3 a.m. Thursday within the facility. Dugway officials did not specify exactly where the vial, containing less than 1 milliliter, or roughly a quarter-teaspoon of the agent, was found - nor did they detail how the vial had gone missing in the first place, or whether anyone was being disciplined as a result of the incident.
"All personnel are uninjured and safe. The public is safe as well," Nicholson stressed.
According to the Centers for Disease Control and Prevention, VX is within a family of toxic and potentially deadly chemical warfare nerve agents. An amber oily substance in its liquid form, severe VX exposure can induce convulsions and respiratory failure.
Dugway houses small amounts of various chemical and biological warfare agents for defense testing purposes; it also is a prime Army base for testing of an array of conventional military weaponry and ammunition.
Dugway also serves as a training site for Army Special Forces and Reserve and National Guard units and encompasses expansive swatches of wastelands used for bombing and tactics training by fighter jets based at Hill Air Force Base.
By 4:30 a.m. Thursday, normal traffic in and out of Dugway had resumed, though several hundred employees reportedly remained restricted inside the facility.
In a statement issued Wednesday evening, Dugway Post commander Col. William E. King had said only that, "We are working as quickly and as thoroughly as possible to resolve a serious concern within the Test Area' and that "measures like these are not taken lightly. No one is in immediate danger but these steps are required."