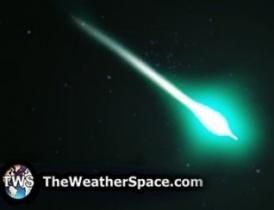 There have been several reports, from Florida to Oklahoma, of people seeing a meteor streaking across the southern sky Tuesday night.
The sighting took place around 9 p.m. It is being described as a fireball that resulted in a bright flash. In pictures it looks like a greenish-blue streak, almost like lighting. It only lasted a second.
However, many pictures have also been identified as fakes so no one is 100 percent sure what the occurrence is.
According to astronomers, if it was a meteor it most likely contained copper which is why it gave off a greenish glow. It was also reported traveling southeast to northwest.
"Based on everyone's description instead of coming down it sounds like it came more across which gives it more time to burn up so more than likely it burned up in the atmosphere," said Stephen Meeks, amateur astronomer.
If it was a meteor it was a pretty rare sight, those types of meteors only occur five or six times a year in the United States, according to meteor expert Steve Arnold.
Source: KSFM-TV