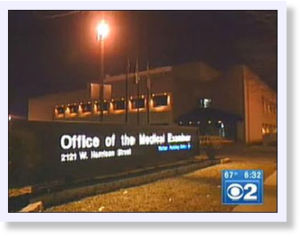 Chicago - WBBM Newsradio 780 has learned that the cooler at the Cook County morgue is so crowded right now, bodies are doubled-up on some of the trays.
Why are there so many bodies?
"We had this huge upswing in deaths right at the end of the year, and with the holidays being on Saturdays, it really created a backlog because the funeral directors weren't coming in," Cook County Medical Examiner Dr. Nancy Jones tells WBBM Newsradio 780′s Steve Miller.
Jones adds that more bodies could not go out because coffins were on back order.
But Jones says the coffins are now in, and a mass county burial is scheduled for next week.
"The cooler really isn't in bad shape right now," Jones said. "We do have a fair number of bodies, but it has had more bodies in it at other times."
Jones says in some cases, bodies are doubled up on one tray.
"My rule is, if you have two bodies on a tray, you have to have two thin bodies," Jones says. "We've been doubling people up for decades."
But Jones says it doesn't happen that often.
In the past, there have been occasions where overflow at the morgue has reached critical levels, most notably during the infamous heat wave of 1995.
As triple-digit temperatures baked the city, the morgue overflowed to the point where refrigerator trucks had to be brought in store the dead. Workers averaged 13 autopsies an hour.
The Cook County Medical Examiner's Office is located at 2121 W. Harrison St. in the Illinois Medical District.