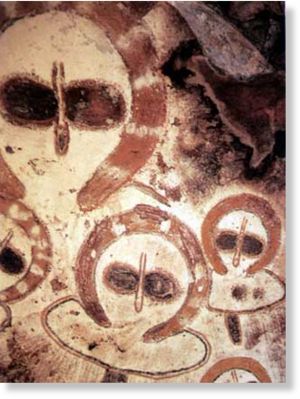 Indigenous rangers from the remote community of Kalumburu have discovered what are thought to be four significant ancient rock art sites.
They made the discovery while walking a rugged stretch of their vast Wunambal Gaambera country in the far north Kimberley.
The art - close to the Drysdale River, where tourists visit by helicopter for picnics - includes depictions of Wandjinas, the supreme spirit beings with large mouthless faces and black eyes.
The exact location of the art is being kept secret but the rangers recorded each site on tracking devices and have handed photographs to the Kimberley Land Council in the hope that the art can be fenced to prevent damage from cattle rubbing against the rock walls.
"Now that we know it's here, we need to look after it," said Neil Waina, who led the group that made the discoveries earlier this year.
Mr Waina and colleagues Heather Unghangom, Jason Adams and Desmond Williams live in a tiny community on the northernmost point of Western Australia. Kalumburu, on the King Edward River, is 550km from the town of Derby but the road is inaccessible in the wet season.
The Uunguu Rangers is one of six groups supported by the land council as part of an initiative called Working on Country.
The Kimberley Ranger Initiative employs Aboriginal men and women to look after country while equipping them with TAFE qualifications in conservation and land management.
The KLC facilitates six full-time ranger groups through the Working On Country program as well as six emerging rangers groups from across the entire Kimberley region.
The program employs more than 50 rangers. They are among a new crop of indigenous workers who do not need to leave their remote communities to find work.
Their duties include land conservation, controlled burning and rescuing lost tourists. The KLC believes flow-on benefits include improved social cohesion in communities as the rangers emerge as strong role models.
While each member of the Kalumburu group said they had previously left home for stints to work or study, they wanted to be home.
"When you go away, you miss your country, your family, everything," said Ms Unghangom.
Source:
The Australian