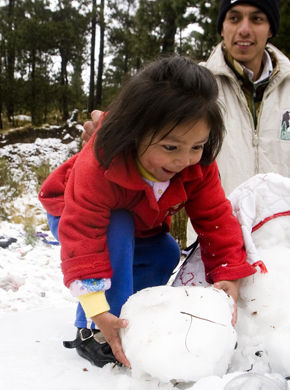 Email from a reader in Mexico:
Hi Robert!

Minus 7 degrees Celsius was our low in Saltillo yesterday and in addition to a frozen water pipe in our house, today there are no less than 13 headlines in various sections of our local paper relating to the current cold wave and all its local implications.

Two jumped out at me. 'Es Mexico Una Hielera Gigantesca' ("México is a Gigantic Refrigerator")... I never dreamed I would ever see such a headline here!

The other (finally) is the first one I have seen throwing doubt on global warming '¿Dónde quedó el calentamiento?' ("Where is the Warming?")

One of the accompanying photos in the articles shows the exquisite pleasure of a young child experiencing snow in Mexico. The other shows the stark reality of an ice bound boat, the MV Arkona, in a canal in Holland.

Come on Mr. Gore. Bring us some "global warming."

Best regards,

Alan Stover
.