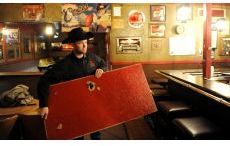 Have you heard the one where the meteorite comes through the ceiling and nearly hits a guy sitting at the bar?
Neither had the patrons of the Red Rock Lounge on the west side until Wednesday night, when they heard a huge boom around 11:30 p.m. and a 4-inch hole opened up in the roof.
"They thought they were being attacked," said Karol Sandvig, owner of the bar at 31st Street and West Colorado Avenue. She said there were about 15 to 20 people in the bar when the ceiling exploded, sending insulation wafting through the air.
Five days after the incident, Sandvig and firefighters still aren't sure what caused the hole in the bar's roof, but a meteorite hunter from Arizona drove through the night to spend Monday searching above the bar's ceiling tiles for a piece of space rock. He hoped it had bounced off of a heating vent and was hiding somewhere in the ceiling.
"If you look at that hole, it shows that something small hit the roof at a high velocity," said Robert W. Ward, who travels the world to find, collect and sell meteorites. "The most logical explanation would be a meteorite."
By Monday afternoon, he still hadn't found anything.
"It's very unusual that nothing has been found," he said. "It's a mystery. There should be a meteorite here."
Colorado Springs firefighters, who heard the boom at Station No. 5 three blocks away, couldn't figure out what caused the hole even after examining it on Wednesday night and Thursday, said Lt. Robert Coffey, a fire department spokesman.
The hole was clearly made from the roof down, which meant it wasn't caused by gunfire in the bar, and there's no burn marks or signs of high heat that would indicate lightning.
There was also no proof it was a meteorite, Coffey said.
"I guess it could be, but without the rock how do you know?" he said.
Doug Duncan, director of the University of Colorado at Boulder's planetarium, said a meteorite hitting a bar is possible, but not likely.
"Something like that does happen, but it only happens once every five to 10 years," Duncan said. "So 90 percent of cases you hear of turn out to be meteor-wrongs and 10 percent turn out to be meteor-rights."
Sandvig, who has worked at the bar for 28 years, wasn't too worried if it was a meteorite. She seemed more worried about the extra money she was shelling out to heat a bar with a hole in it. Her landlord called a roofer, who was there Monday as well.
Sandvig looked up at the hole. No, this wasn't the oddest thing that's happened at her bar, but she wouldn't elaborate.
"All kinds of strange things happen in here," she said. "This is just one more thing that happened."
The National Weather Service had no reports of lightning or a meteor strike last week.