The 2-inch-diameter gun-metal black rock that 10-year-old Chandler Harp found Saturday in his Liberal backyard traveled a long way to get there.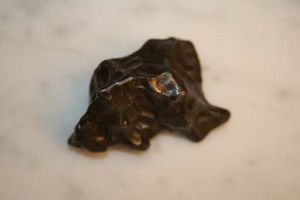 "There's no question in my mind whatsoever that what they have is a meteorite," said Don Stimpson of Haviland, a biophysicist who owns the Kansas Meteorite Museum and Nature Center on U.S. 54/400 near Greensburg.
Stimpson made the trip from rural Kiowa County to Liberal on Tuesday after he heard about the discovery of the meteorite by Chandler, son of Lee and Teri Harp.
The iron meteorite tumbled to Earth from the center of the atmosphere around the sun and fell from as far away as 100 million miles
, Stimpson said.
"
That's a part of the solar system that as humans we haven't investigated
," he said.
It wasn't until after they launched an Internet search for meteorites that Lee and Teri Harp thought seriously about the bull's-eye in their backyard Saturday morning.
"It kind of scared us that they were in the backyard and a projectile was coming our way," Lee Harp said about the triangular object that could've hit their son or the family dog.
The meteorite was accompanied by what Chandler called a loud explosion, "twice as loud as a TV," and dirt that flew five feet into the air.
Stimpson, who has examined meteorites for the past 20 years, called the rock "beautiful, well-formed as it burned through the atmosphere."
Chandler's mother, a pharmacist, weighed it at 47 grams.
The dollar value of meteorites varies according to what meteorite hounds are willing to pay, Stimpson said, but could reach $100 per gram. At present there are about 1,500 meteorites posted for sale on the Internet.
Stimpson added that
it's been a good year for meteorites in Kansas. Three new meteorites have been confirmed
, at Larned, Sawyer, and a third awaiting absolute confirmation and naming, near the Smoky Hill River.
Their son's find isn't for sale, the Harps said. For now the meteorite will remain in a display case in their home.
The discovery hasn't changed Chandler's mind about a potential career.
Instead of exploring outer space, the fifth-grader said he still wants to be an engineer and build things.