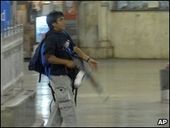 The leading suspect in the Mumbai (Bombay) attacks trial has retracted his confession.
The lawyer for the sole surviving suspected gunman, said it was extracted through coercion and force.
The prosecution had read out parts of his confession as the trial began and accused him of killing 166 people.
Prosecutor Ujwal Nikam said this was a conspiracy hatched in Pakistan to wage war on India.
Friday's opening of the trial followed a number of procedural delays.
The latest was on Wednesday when Mr Qasab's lawyer was sacked for allegedly also signing up to defend a victim.
More than 170 people, including nine gunmen, were killed in the attacks last November.
'Minor'
Mr Qasab, who police say is 21, is charged with murder and waging war on India. He faces the death penalty if convicted.
Two Indians, Fahim Ansari and Sabauddin Ahmed, are also on trial, accused of being members of the Lashkar-e-Taiba militant group and of scouting for the attacks.
Mr Nikam opened the prosecution argument, saying the Mr Qasab was responsible for the murder of 166 people.
"Even though Qasab was actually not present at the time of the firing incidents in hotels Taj and Trident, and Nariman House, he can be held liable for the murders as one of the co-conspirators," Mr Nikam said.
He said the gunmen had training from "intelligence professionals"
but did not at that point mention Pakistan by name.
Mr Nikam spoke of a "major general" who had attended the training of the suspects and informed them of the use of the sea route to attack Mumbai.
The attackers were told to kill American, British and Israeli nationals as they had caused harm to Muslims, Mr Nikam said.
Mr Qasab did not smile or speak.
His new lawyer, Abbas Kazmi, claimed Mr Qasab was under 18 years of age and therefore should be tried in a juvenile court. The application was rejected.
Mr Kazmi then formally filed for retraction of the confession that was made in front of a magistrate in February.
It will be up to the judge to weigh the evidence at the trial and decide whether the confession should be taken into account.
Under pressure
India has accused Pakistan-based fighters from Lashkar-e-Taiba of carrying out the attacks. Pakistan has admitted they were partly planned on its soil.
Mr Qasab was arrested on the first day of the attacks and has been in custody ever since.
A huge security operation has been launched for the trial involving hundreds of armed police and soldiers.
Proceedings were set to start formally on Wednesday but Mr Qasab's lawyer, Anjali Waghmare, was dismissed for "professional misconduct".
She was alleged to have also signed up to represent victim Sri Vardhan Kar, but has denied agreeing to represent him.
On Thursday the court appointed Mr Kazmi, a top criminal lawyer from Mumbai, to replace her.
This case has generated huge interest in India, whose citizens were outraged by what they saw as the inability of their leaders to protect them in November.
India's government is under pressure to deliver results in the case,
especially with the first phase of voting in the country's general elections getting under way on Thursday.