This fireball occurred at 7:29 PM MDT over central Colorado. I have received over 100 witness reports, from Casper, WY in the north, Albuquerque, NM is the south, the Western Slope to the west, and the Front Range to the east.
Data has been recovered from the following Network cameras:
*
Cloudbait
(
details
,
video
)
*
Douglas County H.S.
(
video
)
Tom Ashcraft also captured this meteor from his camera near Santa Fe, NM (
video and other information
).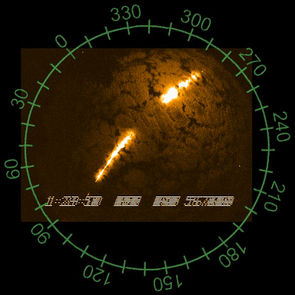 The image at left is from the Cloudbait camera. The meteor is seen passing almost straight overhead. It burned continuously, but where it passed behind thicker clouds at the center the computer briefly stropped recording.
Based on data from the cameras, the meteor appeared over Colorado Springs, CO and traveled due west, ending near Cedaredge, CO. The ground path was about 270 km (170 miles) long, and the average speed was 34 km/s (76,000 mph).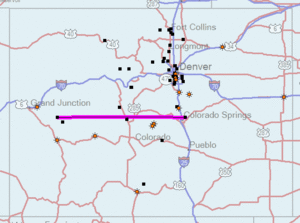 If you saw this event and have not made a report, please do so
here
.
Please check back for further information as it becomes available.