This is the story of a drug that was on the market for 14 years and may have contributed to the deaths of thousands of patients. Trasylol, made by Bayer, is given in the operating room to control bleeding. It was a big money maker.
As correspondent Scott Pelley reports, Bayer marketed Trasylol aggressively until it was used in about one third of all cardiac bypass operations in America.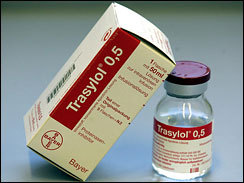 ©AP
But then, in 2006, a study showed widespread death associated with Trasylol, and as it turns out there was concern long before that.
How much did Bayer know? And why did it take Bayer and the U.S. Food and Drug Administration nearly two years to take the drug off the market after major studies revealed the danger? Two years - during which it's estimated Trasylol was contributing to the loss of one thousand lives a month.
Doctors believe one of those patients was Joe Randone. He had a heart murmur since he was born, but that didn't keep him from an active life. On New Year's Eve 2005, Randone seemed to be the picture of health.
Two weeks later, Randone checked himself into a Long Island hospital for heart valve replacement surgery. He was 52, and the surgeon told his wife Josephine and daughter Marissa that the risks were low.
"They said even possibly in five days he would go home. And then, you know, there was a recovery period, as there would be with any kind of heart surgery," Josephine remembers.
"But then he should be in ICU for about 24 hours, and then move up to a regular floor, recuperate and come home," Marissa adds.
Asked if the doctors weren't particularly concerned about this, Josephine says, "No."
"It was routine as far as they were concerned," Marissa tells Pelley.
The surgeon noted the chance of complications at five percent. Trasylol was put in Joe's IV and kept flowing for four hours. At the end of the surgery, the Randones were told that something was wrong.
"They didn't go into specifics," Marissa says. "Just that there were a lot of complications, and that making it through the night was basically our first concern."
Immediately after the surgery, Randone suffered two heart attacks and his kidneys failed. Randone's surgeon wrote in his notes "Aprotinin-induced graft thrombosis." Aprotinin is Trasylol, and thrombosis means blood clotting.
At the same time, in San Francisco, an eminent medical researcher, Dr. Dennis Mangano, was finishing a study that had followed thousands of patients - the largest Trasylol study ever conducted.
Mangano says the study included 5,065 patients in 17 countries.
"It showed an important association between Trasylol use and kidney failure requiring dialysis, Mangano tells Pelley, "And it showed a trend toward increased death in hospital in these patients."
Dr. Mangano was one of the researchers who discovered that aspirin reduces the risk of heart attack. His non-profit institute studies drug safety and how generic drugs can lower health care costs. His work is credited with improving the health of millions. Ten days after Joe Randone's surgery, Mangano's study was published in the
New England Journal of Medicine
and reported in newspapers across the country, including Long Island.
Marissa says the doctor had just seen an article about the study in the newspaper. "The surgeon told us that he felt that the drug was the reason for all the complications," Marissa says.
"And that he had filed a report with the FDA, and he wanted us to be aware that it was because of this drug," she says.
What the surgeon likely didn't know was that there had been concern about the drug as far back as the early 1980's. It was then, in Bayer's hometown, that Dr. Juergen Fischer, director of the Institute of Experimental Medicine at the University of Cologne, found severe kidney damage in animals given Trasylol. He told Bayer, but he was surprised by the drug company's reaction.
"
I felt that Bayer wasn't interested to examine these side effects
," Fischer says.
Soon, the same side effects were being seen in humans in America.
"The most common problem we saw was renal failure. That is, that kidneys did not function properly after surgery," says the Missouri Baptist Medical Center's Dr. Nicholas Kouchoukos, one of this country's top heart surgeons.
In 1992, he conducted a small study, not funded by Bayer, in which Trasylol was given to 20 patients.
"Thirteen of these patients had problems with kidney function after the procedure," Kouchoukos says.
"What did you think?" Pelley asks.
"Well, this was the red flag. And it appeared that it was related to the use of Trasylol," he says.
The red flags showed up in some studies, but not others. Safety concerns are often hard to assess until thousands of patients have received a drug. And critics maintain that Bayer never paid for any studies that were large enough to determining whether kidney failure was a problem. All the research did show Trasylol controlled bleeding, so in 1993, the FDA approved it.
"Doesn't a drug have to be proven safe before the FDA allows it on the market?" Pelley asks Mangano.
"No," he replies. "The trials that are constructed before a drug is marketed and given approval to be marketed generally address effectiveness of the studies."
"Make sure I understand. If the FDA is not certifying a drug as safe, before it goes on the market, what is it doing?" Pelley asks.
"It's certifying that the drug is effective and that within the small numbers studied, relatively small, it doesn't appear to be unsafe," Mangano says.
The FDA approved Trasylol for patients at high risk of bleeding and it noted kidney toxicity was a problem. Bayer pushed the drug hard. In 1998, the FDA expanded its approval to cover all heart bypass patients. By 2005, sales of the drug hit $300 million. The next year, $750 million was projected, and
Bayer envisioned a billion-dollar drug
.
Then came the Mangano study in 2006 that suggested thousands of patients had died. The FDA issued an advisory to doctors alerting them to Mangano's study. But the FDA didn't plan to have a meeting about Trasylol for eight months.
Bayer wanted to have its own study for that meeting to compare with Mangano's, so the company hired Harvard professor Dr. Alexander Walker to look at the records of nearly 70,000 patients. Walker's results were the much the same as Mangano's. Patients on Trasylol, he wrote, had an elevated risk of death and acute renal (kidney) failure.
Meanwhile on Long Island, winter turned to spring, and Joe Randone grew worse.
"It was a domino effect. Once the kidneys stopped working, then it affected other organs. He was so swollen that he couldn't even close his eyes," Josephine remembers.
Joe Randone's eyes were sewn shut to protect his corneas, and his gall bladder was removed. Because of poor circulation, his legs were amputated. Over eight months, he had 19 operations.
"They were amazed how he could rebound from all of these instances. They said, 'Anyone else who wasn't in good health, who didn't have such a strong will, would not have made it that far,'" Josephine says.
His tragedy is all the worse because there were two other drugs that might have been used in Randone's case without the consequences - drugs that cost $50, while Trasylol costs over $1,000.
"They were as effective in our studies as Trasylol in limiting bleeding, and limiting the amount of blood transfused," Mangano says. "With none of the adverse side effects."
In 2006, Mangano presented his study to the FDA's advisory committee; cardiologist Dr. William Hiatt chairs that committee and ran the meeting.
Asked what Mangano was asking the committee to do, Dr. Hiatt tells Pelley, "He was asking us to review his observational data and he clearly stated that he felt this drug carried significant risk. And he was asking the committee to review that risk. And then perhaps recommend to the FDA the drug should be not used anymore."
Mangano's study was not embraced wholeheartedly by the committee because it was not the gold standard in medicine: a clinically controlled experiment testing Trasylol against a placebo. Rather, Dr. Mangano's study looked at hospital records to see how patients did in the real world.
By the time of the meeting, Bayer was holding the results of the study that it had commissioned from Alexander Walker at Harvard. But
Bayer representatives stood before the committee and did not reveal that their study existed
.
"The representatives at the meeting who were senior, responsible, should have disclosed fully to the FDA that a study was done, that data were being accumulated and even put the meeting in abeyance until the data were found or discussed. And that was not done," Mangano says.
"Good medicine demands that you protect the patient. That's the issue here, and not the drug, and not the profit margin," he says.
Why would Bayer withhold this information from Hiatt's committee?
"They claim that the data wasn't ready for review," Hiatt says. "There were lots of reasons that they claimed. But again, I can't speculate. The reality is we didn't have the data."
"They weren't being honest with you?" Pelley asks.
"I can't draw that conclusion. I just know that they didn't provide data that was there," Hiatt says.
Hiatt's FDA committee - in the dark about the Bayer study that confirmed Mangano's results - voted to keep Trasylol on the market. The next week, Alexander Walker, the author of the Bayer research, went to the FDA to blow the whistle on Bayer for failing to present his study.
The FDA reacted by issuing another warning to doctors. But a year would go by before the advisory committee would meet again to consider the results of Bayer's hidden study, a meeting Dr. Hiatt did not attend.
Hiatt told
60 Minutes
that
if he had known about Bayer's study at the first meeting he would have voted to take Trasylol off the market
. When he found out what had happened, he wrote an editorial that was published two months later.
"I wrote a perspective piece that disclosed to the American public there were concerns about transparency," he says.
"You describe them as concerns about transparency. Tell me how you felt. You had to be surprised," Pelley asks.
"I'm a scientist. I just review the data," Hiatt says. "How do I feel about this? I don't know."
Asked if he had been angry, Hiatt responds, "I thought it was unusual. I thought it was truly inappropriate."
Last year, the Canadian government conducted a large clinical trial of Trasylol. The study had to be stopped because patients in the study group were dying.
When the study was halted, Germany banned Trasylol, and the Canadians and the FDA persuaded Bayer to suspend marketing temporarily, though surgeons can still use it in special cases. Worldwide, more than four and a half million people had been given the drug. About a third of them were Americans who received it during the 14 years that it was on the U.S. market.
Mangano says the FDA should have pulled Trasylol after his study two years before.
"How many patients according to your analysis would have been saved if the drug had been taken off the market after your first study?" Pelley asks.
"Between my study and November 5, when it was taken off the market, there were approximately 431,000 patients who received the drug. As I calculated, 22,000 lives could have been saved. It's about a 1,000 lives saved per month delay in taking that drug off the market," he says.
To the Randones, one life mattered most. In August 2006, Joe Randone died. His family is suing Bayer, which expects to post record profits for this past year, partly on the strength of Trasylol.
Neither Bayer nor the FDA would speak with
60 Minutes
for this story. Bayer did send a letter which said, in part, "the available data continue to support a favorable risk-benefit profile for Trasylol when used according to labeling."
Bayer says it suspended two employees for failing to disclose the results of its 2006 study. But the FDA has taken no action against the drug maker.