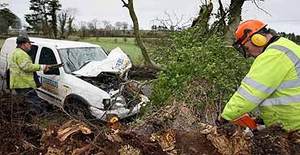 A driver had a lucky escape in Broughshane, County Antrim when a tree fell on his vehicle as high winds swept across Northern Ireland. Photograph: Paul Faith/PA
Roads have been blocked by falling trees, ferries cancelled, bridges closed and thousands of people left without power as winds of almost 80mph buffeted Scotland and Northern Ireland today.
High winds also caused cross-Channel ferries to be delayed by up to 90 minutes, while firefighters in Lincolnshire dealt with a mini-whirlwind.
The strongest gusts of 78mph hit the Isle of Islay in western Scotland, causing ferry services between Belfast and Stranraer to be cancelled.
A train driver was showered in broken glass when a tree branch hit his locomotive two miles north of New Cumnock in Ayrshire. He was taken to hospital as a precaution.
In Aberdeenshire, a woman and two girls were killed in a road crash on the A92 this morning, although it is not known if the weather played a factor in the two-car accident. In Largs, fire crews had to rescue a man after his car went into the sea last night.
The Forth, Tay and Erskine bridges were closed, leading to big tailbacks and the M74 motorway was blocked when four lorries overturned at Abington in South Lanarkshire.
The Forth Estuary Transport Authority said the unusual decision to close the Forth bridge had been taken because of storm damage to temporary access platforms above the carriageway.
A spokesman said: "Until we can get up there to make them secure, we have closed the bridge to all traffic, as there is a risk of falling debris."
Buildings to suffer damage included the derelict Great Eastern Hotel in Glasgow's Duke Street, the Galley of Lorne Inn in Ardfern and Dundee university's Seabraes halls of residence.
About 22,000 homes in Argyll, Lanarkshire, Ayrshire and Clyde suffered power cuts after high winds damaged cables.
The Met Office said the winds could strengthen today in parts of Scotland and issued a severe weather warning that gales of up to 80mph could cause structural damage.
A spokeswoman for Fife police said: "Numerous trees have been blown down, blocking the roads, and we have had some minor flooding across the region.
"But it has not been a disaster, it has just been a bad winter night due to high winds and sweeping rain."
Police in Northern Ireland closed a road in Lisburn, County Antrim, after power cables were brought down and they banned all traffic on the Foyle Bridge in Derry.
Heavy seas in the English Channel caused delays to ferry services. Sailings from Dover's eastern docks with P&O Ferries were running about 90 minutes late.
Firefighters in East Yorkshire and North Lincolnshire said they dealt with a number of incidents, including a "mini-whirlwind" in Scunthorpe last night which moved a metal storage building. There were no injuries.
The most serious incident was a minibus crash yesterday near Garrowby Hill in East Yorkshire which left two people in hospital. Firefighters believe the bus could have hit black ice on the road.