VIENNA - A giant panda on loan from China gave her Austrian zookeepers a surprise Thursday: the first panda cub born in Europe in 25 years. Caretakers at the Schoenbrunn Zoo detected the cub on a surveillance camera after hearing little squeals coming from an enclosed compound where the mother, Yang Yang, had retreated. Zookeepers had not been certain Yang Yang was pregnant.
A photograph released by the zoo showed Yang Yang, a first-time mother, holding the tiny creature in her mouth and looking up toward the camera.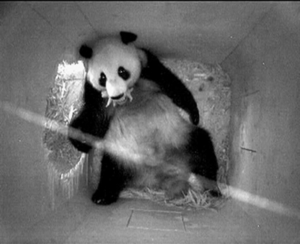 ©AP/Tiergarten Schoenbrunn
In this photo taken by a surveillance camera and released by the Schoenbrunn zoo in Vienna, female panda Yang Yang holds her newborn baby in her mouth, on Thursday, Aug. 23, 2007. For the next two or three month Yang Yang and her baby will spend in the enclosed area where she gave birth.
Zookeepers estimated the
cub weighs 3.5 ounces and measures 3.9 inches.
"'Yang Yang' means sunshine, and that's what she is," zoo director Dagmar Schratter told reporters with a broad smile outside the panda enclosure.
The last time pandas were born in Europe was in Madrid in 1982, the zoo said on its Web site. A panda gave birth to twin cubs through artificial insemination.
Mother and cub will remain in the enclosed area for the next two to three months. The cub, whose name will be picked by the Chinese, will likely start crawling in about four months and will probably make its public debut around that time, Schratter said.
The cub was born 127 days after Yang Yang mated with the male panda Long Hui, the zoo said. The two pandas are in Austria on loan from China.
Schratter said an Aug. 6 ultrasound had not shown any signs of the pregnancy but caretakers became suspicious a few days ago when 7-year-old Yang Yang started taking material into the area where she delivered her cub Thursday. She had done so before, however, without giving birth.
Schratter said the pregnancy occurred naturally. Female pandas often are artificially inseminated after they mate to raise the chances of a pregnancy, said Regina Pfistermueller, a zoologist who co-wrote a book about pandas with Schratter.
"We decided to pass on that step," Pfistermueller said.
Cubs are vulnerable at birth, with about a 60 percent survival rate in the first year, Schratter said. She noted it was a good sign that Yang Yang had accepted her offspring, but the zoo had an incubator and artificial milk ready just in case.
Pfistermueller said animals in zoos occasionally reject their young, leaving it up to staff to raise them. That fate was met by Knut, the polar bear cub being raised by zookeepers in Germany.
"This is a good omen, also for the Olympic Games 2008," said Lu Yonghua, China's ambassador to Austria, who went to the zoo to offer his congratulations. Beijing will host next year's Summer Games.
Approximately 1,600 giant pandas live in the wild, according to the World Wide Fund for Nature.
The species' future remains uncertain because its forest habitat in the mountainous areas of southwest China is fragmented and small populations live isolated from each other, the WWF's Web site says. Poaching also remains a threat.