A reconstructed 11th century Viking longship has arrived in the Irish capital Dublin after 44 days at sea and with only sails and oars as power.
The Havhingsten fra Glendalough (The Sea Stallion from Glendalough) is the largest Viking warship ever rebuilt and its 65 crew were welcomed by a large crowd when they disembarked at Custom House quay in central Dublin.
Its sedate arrival up the River Liffey was shown live on the Internet and Irish state television.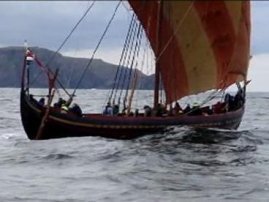 ©Unknown
The ship was built here more than 1,000 years ago in the Glendalough forest near Dublin.
The 45 men and 20 women on board, aged between 16 and 64 and from across the world, have been on the 30-metre long boat for more than 900 nautical miles (nearly 1,700 kilometres).
They left the Danish port of Roskilde on July 1 and crossed the North Sea to northern Scotland before descending the west coast of Scotland to reach Ireland.
In tests, the ship reached top speeds of 10 knots. But unlike the Vikings, it is equipped with a radar, satellite antennae and other navigation equipment. A help boat also followed it incase of emergency.
But it had to be towed across part of the perilous North Sea crossing because of unfavourable weather conditions and an absence of wind, said one of the crew members Henrik Kastoft, in his online journal of the trip.
The Havhingsten fra Glendalough will be on show to the public for two days before being taken to Dublin's National Museum where it will be the centrepiece of an exhibition about the Vikings.
The original boat was used in Viking raids on the Anglo-Saxons and Normans between 1050 and 1060 at a time when a number of Vikings from Denmark lived in Ireland.
It was sunk in Roskilde fjord with four others at the end of the 11th century to defend the Danish coast from rival Norwegian Vikings. Its oak hull was discovered in 1962.
Reconstruction work began in 2000 at the dockyards of the Viking Ship Museum involving ship builders from Denmark, the Faroe Islands, Norway and the Aaland Islands, using the same methods and tools as in the Viking era.