A foot-high plastic Jesus doll that quotes Scripture and a three-inch Daniel in the lions' den are about to do battle with Barbie and Bratz in toy aisles across America.
The nation's largest retailer, Wal-Mart, has announced that it will start carrying a line of faith-based toys in 425 of its 3,376 stores later this month to see if characters such as Spirit Warrior Samson can rival the popularity of superhero figures like Spiderman.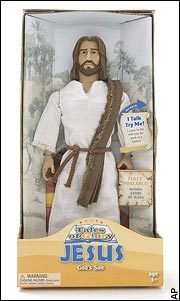 ©Unknown
Jesus: runaway best-seller
The move is a first for the chain, which has carried religious-themed products including stationery and books before but never a line of toys.
A spokesman for Wal-Mart said that the "faith-enriching toys", made by One2believe, a Californian company, would go on sale mainly in stores in the Midwest and South, the country's religious heartlands.
David Socha, the chief executive of One2Believe, described his products as "real superheroes they (children) can believe in" and part of a "battle for the toy box" that offers parents an alternative to dolls and figures with violent or sexual overtones.
"The gradual decline of what children are offered is definitely heavy on our heart," said Mr Socha yesterday, a father of two who first started working with toys as a child in his parents' New York toy shop. "If you walk down the toy aisles you see a lot of reproductions of Satan, or dolls that promote promiscuity.
"I think we have to glorify good not bad and most parents want an alternative to what's out there. That's what we aim to provide and I believe there is a very large market here."
The company hopes to tap into a feeling shared by many parents about the growing inappropriateness of toys such as the mini-skirted Bratz dolls, which earlier this year were described as "worrisome" by the American Psychological Association for their association with "objectified adult sexuality".
Mr Socha said it was not only Christian parents who would rather their children played with Goliath, Moses, Mary or Noah than a comic book character or make-up lathered doll. "We have been pleasantly surprised that even people of lukewarm faith or no faith see the figures as a way to tell kids great stories, with or without the religious aspect."
The Jesus doll is the runaway best-seller, Mr Socha added, followed by Moses and Mary.
The toys are based on stories from the Bible. As well as Daniel, a Tales of Glory figure for younger children who comes with a lion and den and costs around £4, there are 12-inch Peter and Paul Messenger of Faith dolls that recite Scripture when a button is pressed. These cost around £10. Many of the figures come with a story book.
Wal-Mart's move is part of a growing trend as businesses try to tap into the multi-billion-dollar market in religious and family-themed products popular with the segment of America that turned Mel Gibson's The Passion of the Christ into a £185 million goldmine.
Ellen Johnson, the president of American Atheists, told Canada's National Post: "Personally, I don't think kids are going to go for it. Nobody's really all that interested in Jesus. Kids aren't."