KNIPPA, Texas - Storms dumped more than a foot of rain on parts of Texas on Saturday, stranding more than 170 passengers on an Amtrak train for hours and forcing rescue crews elsewhere to pull at least 50 people to safety.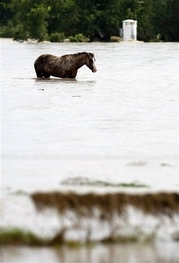 ©AP
A horse stands in floodwaters Saturday, July 21, 2007, near D'Hanis, Texas, after heavy rains caused the Seco Creek to overflow its banks, flooding the town and closing U.S. Highway 90.
Water covering the tracks in Knippa, about 75 miles west of San Antonio, stopped a westbound Amtrak train carrying 176 passengers around 9 a.m. CDT. Amtrak spokeswoman Vernae Graham said buses were driving the passengers to El Paso, where they were expected to board another train early Sunday.
The train never lost power, but buses could not reach it until early Saturday evening because of flooded roads, Graham said.
No serious injuries were reported in the state's latest round of flooding, which closed many roads and forced evacuations.
In southern Guadalupe County overnight, a possible tornado damaged four businesses and at least one house, said Sheriff's Department Cpl. John Batey.
Parts of northern Uvalde and Medina counties got as much as 17 inches of rain between 10 p.m. Friday and 10 a.m. Saturday, said Pat McDonald, a National Weather Service forecaster.
Seco Creek overflowed, inundating the town of D'Hanis near San Antonio, said Medina County Sheriff Randy Brown. Many businesses were flooded with 3 to 4 feet of water.
Boats, fire trucks and helicopters rescued stranded residents, but only one minor injury was reported, Brown said. A shelter was opened in nearby Hondo, but Brown said he didn't know how many residents would stay there.
"The water is going down. Things are getting better," Brown said.
In Bexar County, which contains San Antonio, rescuers had responded to more than two dozen calls for high-water rescue by Saturday afternoon, officials said. Campgrounds along the Medina River in Bandera County were being evacuated.
In San Antonio, there were 20 to 30 road closures, said Orlando Hernandez, county emergency management coordinator.
"Other than a couple of days, we've had rain for the last three to four weeks," he said. "The ground is saturated. Any rain we get is resulting in flooding."