Villagers told to stay away from flooded homes.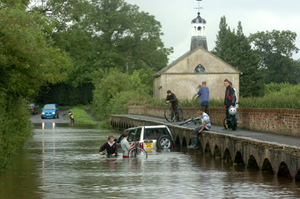 ©Gazette and Herald Wiltshire Network
Floodwater near the flooded village of Langley Burrell
Familiers in Langley Burrell are being urged to stay away from their flooded homes as the onset of more rain threatens to raise the water level once again.
Overnight five people had to be evacuated from their homes and one man had to be rescued from his van after being trapped inside it for two hours.
Derek Upton, who runs the Hedgerow Nurseries in Langley Burrell woke up to find most of his farmland underwater.
He said: "I have lived here for 26 years and I have never seen anything like this before.
"Although we do get regular flooding in the winter this has never happened in the middle of the summer.
"There is absolutely nothing we can do - just wait and pray for the best.
"Luckily, my animals were in barns when the flooding began, but all my crops are underwater - I just don't know if we can salvage anything.
"We are all praying for some warmer weather, but it's not looking likely."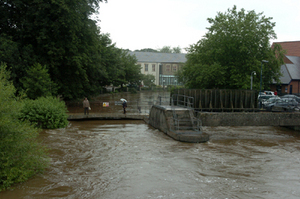 ©Gazette and Herald Wiltshire Network
The swollen River Avon in the centre of Chippenham
The Wiltshire Fire and Rescue Service received a record number of 700 calls from late yesterday afternoon into the early hours of this morning.
A spokesman said: "It was amazing how the calls just kept coming and coming.
"We were called over 700 times and went out on more than 100 jobs.
"With the water table so high there is reletively little we can do - we can't pump the water away because there is no where for it to go.
"We just advice people to stay somewhere safe and dry and not to put themselves at any unnessicary risk by entering their homes if they are waterlogged."
One of the worse hit areas is Kellaways - just outside the village of Langley Burrell, where the River Avon has burst its banks and flooded everything within a 200-yard radius.
A Wiltshire police spokesman said: "We are advising everyone to keep alert for any areas which are particularly bad, especially when driving.
"If you can avoid using your car then that is exactly what you should do.
"If leaving your home because of the flooding make sure the property is properly secured before doing so."