Firefighters battled to keep a wildfire that already burned thousands of acres from reaching a small town as residents of at least two dozen homes were told to be ready to evacuate quickly.
The 24-square-mile fire raced toward the town of Indianola on Friday, a day after burning through a campground and motel and forcing rescues. Officials said the blaze may have been started by sparks from a flat tire.
With a highly skilled team on its way from Florida, 150 area firefighters were fighting the flames amid extraordinary heat and drought, with no immediate relief predicted.
"It only takes a cigarette or a match and this stuff will explode," said Fred Burns, owner of Burns Brothers Ranch RV Resort in nearby Fountain Green, which was not affected.
Indianola residents in at least two dozen homes were advised to be ready to leave.
The blaze began Thursday in a private campground in Salt Creek Canyon, 85 miles south of Salt Lake City. A motel on site and some vehicles and trailers were burned, the U.S. Forest Service said.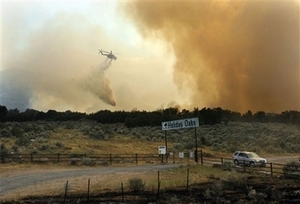 ©AP Photo/The Salt Lake Tribune, Rick Egan
A helicopter drops water on the Salt Creek fire near Holiday Oaks in Nephi Canyon, Friday, July 20, 2007, outside Nephi, Utah.
Campgrounds and cabins along a 32-mile scenic road in the Uinta National Forest were evacuated overnight, but a portion reopened Friday.
Emergency calls show that a motorist may have sparked the fire by riding on the rim of a flat tire on a highway that is an access route to the forest, Forest Service spokeswoman Loyal Clark said.
The nation's firefighting preparedness has moved to its highest level this week because of bone-dry conditions in the West and the number of fires.
Almost half the 72 large fires burning nationally are in Nevada and Idaho. Two tiny towns on the states' shared border - only about 15 miles apart from each other - were evacuated Thursday.
The 40 or so residents of Jarbidge, Nev., remained under evacuation orders because of fears that a nearby 239-square-mile fire could spill into the steep, narrow canyon where the town is located.
That same wildfire crept within a mile of Murphy Hot Springs, Idaho, on Friday, but so far none of the town's 50 homes has burned, fire managers said. The wildfire raced close to the tiny southwest Idaho town, but the fire jumped the canyon where most of the homes are located and spared them from the flames.
Another blaze about 20 miles south of Lewiston led officials to urge residents of about 150 rural homes to evacuate as a precaution after flames jumped some fire lines, said Nez Perce County Fire Chief Ron Hall.
The homes were about three miles from the fire, which has burned more than 62 square miles.
Other fires in the region have burned 200 power poles, knocking out power to about 1,500 people on the Duck Valley Indian Reservation that straddles the Idaho-Nevada border.
More Montana residents were told to evacuate Friday as a blaze nearly doubled in size to 570 acres north of Wolf Creek. Firefighting officials said up to 100 buildings were threatened Friday.
Near Reno, Nev., firefighters were getting a handle on a 4-square-mile wildfire that had threatened hundreds of homes on the edge of town. It was 34 percent contained and some of the more than 700 firefighters assigned to the fire were being sent to battle other blazes.
Firefighters made progress on a 48-square-mile wildfire in Los Padres National Forest near California's central coast that has burned for two weeks. Residents were warned to be ready to flee if flames spread.
Firefighters said they had the blaze 44 percent contained.
In southwestern Utah, a group of fires that began in Zion National Park spilled into neighboring land. Evacuations were ordered and some structures were threatened, although numbers were not immediately available. The fires have burned 8,000 acres, or 12.5 square miles.