Teething troubles started early for a Worthing mum when midwives made a dental discovery on her newborn baby.
Beautiful Megan Andrews was born at 7.23pm on June 29, a healthy baby girl.
But doctors soon discovered she came with extras - at least seven teeth.
Mum Claire Slimming, 20 - she was born with 12 teeth - said she was "a little bit shocked" by the news.
"I was pretty much out of it at first," said Claire.
"They told me a bit later on. It can't be helped.
"At three days old, she'd already had two dentist appointments."
Claire has suffered from dental problems for most of her life since the teeth she was born with were removed when she was three months old.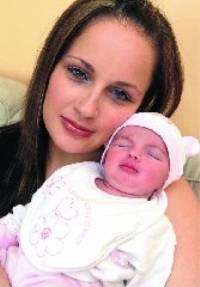 ©n/a
Mum Claire Slimming with baby Megan.
Many have never grown back and she is hopeful her daughter will not suffer the same fate.
"I'm hopeful she won't go through what I had to," said Claire. "I hope she should be all right."
Megan's front four
teeth have been removed because they were loose and at risk of being inhaled, but the remaining teeth are solid and pose no risk.
Claire believed the odds of a baby being born with one or two teeth were around one in 2,000, but she had found no record of it happening elsewhere.
Dentist Martin Bean, a partner at the Grand Avenue dental practice, said: "It's unusual but not unknown.
"But it's difficult to say how often it happens."