Heavy rain and flash flooding have caused havoc across the country as more storms swept through the UK.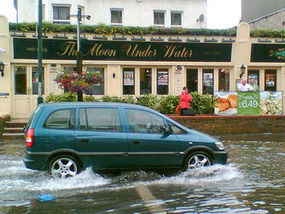 ©Daily Express
A car drives through a flooded street in Newbury, Berkshire.
An eerie darkness descended during the height of the monsoon-like outburst, with some areas getting as much as four to five inches of rain in one day - twice the average for the whole of July.
TV stations were paralysed as satellites went down, computers froze in offices and many towns ground to a halt, with flooding hitting a West Sussex hospital.
Southern and south west England bore the brunt of the bad weather which swept up through France.
As skies brightened over London sufficiently for play to resume in the England-India Test Match at an earlier-soaked Lord's cricket ground, the bad weather moved into the Midlands and parts of Wales.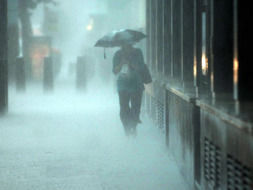 ©Daily Express
A woman battles the rain in central London today.
Rail and Tube services were severely disrupted with all southern England train companies experiencing delays and cancellations on the first day of the school holidays.
In south west London cars had to negotiate 2ft-deep flood water and homes all over the country experienced flooding.
Helen Rossington, of MeteoGroup UK, said: "Britain is getting all the unsettled weather while the fine, hot stuff is in the Mediterranean.
"
Average rainfall for the whole of July is about 35mm, but some places have had as much as 85mm in the last few hours
."
She went on: "There has been a big area of rain with thunderstorms embedded in it. This system is set to hang around and although we should not get as much rain tomorrow, it will be cloudy with light rain."