Forecasters are warning of further flash flooding with torrential downpours expected to hit Britain in the coming days.
The alert came as residents were evacuated from one street in Filey, North Yorks, yesterday following a flood.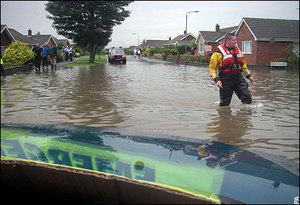 ©PA
An RNLI lifeboat crew assisting people following flash floods in Filey.
Fire services received more than 80 calls for assistance and all roads into the town were closed after an afternoon cloudburst.
The town centre was soon flooded and some residents had to leave their homes as water poured in.
North Yorkshire Police warned drivers of "very deep" standing water on major and minor roads in the area.
The village of Tibberton, near Gloucester, was also clearing up yesterday after being hit by what locals described as a mini tornado.
A half-ton skip was carried 300 yards through the air, a farm building destroyed, trees brought down and electricity supplies cut when the freak wind struck on Tuesday.
Kenneth Browne, 67, who works at Melkirt mushroom farm, said: "It was like an express train coming through and although it only lasted 20 seconds the debris it left was phenomenal."
A Met Office spokesman said: "The radar does show some very lively activity in that area. It is not impossible that a tornado struck. We usually get between 30 and 40 a year."
Mopping up was also under way in Tenbury, Worcs, which was hit by a second wave of flooding when half an inch of rain fell in an hour on Tuesday. A dozen residents were forced to leave their homes.
The threat of more rain after the wettest June on record loomed as an area of slow moving low pressure was expected to develop close to south-east England overnight.
Paul Knightley, of MeteoGroup UK, said 1in to 1.5in of rain was expected across parts of England and east Wales between the early hours of Friday until Saturday morning. It might total 3in in some areas causing disruption, mainly through flooding, he added.