The death toll from heavy rains in India has climbed to about 660 as a minster said more than a million people were stranded in the eastern Indian state of West Bengal.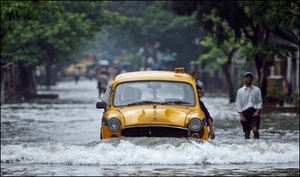 ©AFP/Deshakalyan Chowdhury
A taxi on a flooded road in Kolkata.
"Heavy rains over the past two days have led to the swelling of the rivers in the districts. In many places, the rivers breached embankments and flooded the villagers," said Mortaza Hossain, relief minister in West Bengal.
By Sunday, the Indian army and airforce had managed to move around 30,000 of those made homeless by floods in West Bengal to government relief centres after thousands of mud huts were washed away.
Nine people drowned over the weekend.
The monsoon rains, which sweep India from June to September, cause flooding and deaths almost every year in the densely populated country of a billion-plus people.
Across India, hundreds of people have died in building collapses, lightning strikes and drownings since the start of the monsoons.
Western Maharashtra state has recorded the most deaths, with 385, the Press Trust of India reported.
The deluge has also left a trail of death and destruction in Gujarat state in the country's west, and in the southern states of Karnataka, Kerala and Andhra Pradesh.