Los Angeles suffered through the driest rainy season on record in 2007, marking the least amount of precipitation here in the 130 years rainfall has been measured, weather officials said Sunday.
There were just 8.15 centimeters (3.2 inches) of rain in Los Angeles between January 1 and June 30 -- barely a fifth of the annual average rainfall of 38.3 centimeters (15 inches). "This was the driest rain season ever in downtown Los Angeles and at many other locations in southwestern California," the National Weather Service said in a statement. Most California rains fall in the first half of the year, particularly between January and March. The National Weather Service began compiling precipitation statistics in 1877. Los Angeles residents saw very heavy rains from late 2005 into early 2006, but officials warned that water rationing is possible by next winter if drought conditions persist.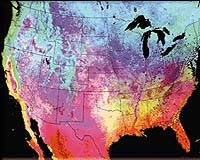 A ferocious heatwave that has gripped the western United States was expected to continue on Friday, with sizzling record temperatures forecast across the sun-baked region. Although temperatures cooled in California early Friday as a high pressure weather system lifted, excessive heat warnings remained in place across large swathes of the state and neighboring Nevada and Arizona. "The high pressure system that has been stubbornly parked over southern California is on a weakening trend, allowing temperatures to cool down to seasonable temperatures," meteorologist Jamie Meier said.
However the National Weather Service warned that temperatures in southern California's San Diego County would reach up to 117 degrees Fahrenheit (47 degrees Celsius). On Thursday, the Californian town of Baker sweltered under temperatures of 125 degrees F (52 C).
Several cities across the affected states witnessed record high temperatures on Thursday, including Las Vegas, where arriving tourists were greeted by furnace-like temperatures of 117 degrees F (47 C).
Forecasters advised people in the worst hit areas to limit their time in the sun and carry out regular checks on vulnerable relatives and neighbors.
The operators of California's power grid meanwhile called on residents to conserve electricity during the heat of the day in order to prevent outages.
The California Independent System Operator said it was confident of avoiding major blackouts but said it expected energy demand to hit near record-levels as people cranked up air conditioners to cope with the the triple-digit heat.
The heatwave has left firefighters across the western US nervously fearing the worst following a record dry spring.
Firefighters have warned that the temperatures combined with thousands of acres of tinder dry brush and parkland is a potentially lethal combination.
Meanwhile the US Border Patrol in Arizona, which saw Phoenix roasted in 115 degree F (46 C) temperatures on Thursday, issued warned illegal immigrants of the dangers of attempting to cross the border from Mexico in the heat.
It came after officers rescued 10 migrants in remote areas of the Arizona desert on Wednesday all suffering from severe dehydration.
US Border Patrol in Arizona have discovered at least 16 bodies in the desert over the past month, according to local media reports.
Hundreds of illegal immigrants die every year attempting to cross the border from Mexico into the US, with many of the deaths blamed on exposure to heat.