Heavy rain continued to take its toll on southern Japan on Saturday, with a man drowning in a flooded rice paddy, and four others injured in flood-related accidents. Thousands had to evacuate their homes.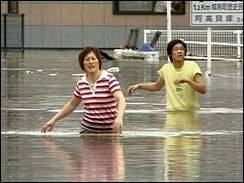 ©AP Graphics Bank
People wade through flooded street, Misato, Japan.
By midday Saturday, a powerful weather front had dumped over 20 inches of rain on southern Japan since Wednesday, according to the Meteorological Agency.
In Ehime prefecture (state), a 73-year-old man fell into a flooded rice paddy and was swept into a swollen river where his body was later found, said prefectural police spokesman Masaru Hosoda.
In the hardest-hit area - Kumamoto prefecture on the southern main island of Kyushu - three men suffered minor injuries after their cars hit a large pothole caused by a mudslide, a prefectural police official said on condition of anonymity, citing department policy.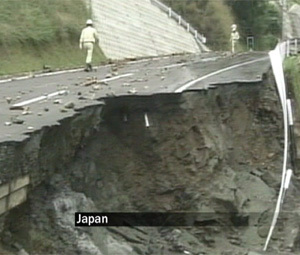 ©EuroNews
On Friday, a woman in her 80s broke her leg when a mudslide hit her house and washed her down a hill, said prefectural official Satoshi Hirai.
More than 10,000 people in Kumamoto were evacuated to school gymnasiums and community centers due to flooding, the prefecture said in a statement.
About 130 households in the town of Misato were isolated from the surrounding area after heavy rains flooded roads and triggered landslides, prompting prefectural officials to call on the Defense Ministry to dispatch troops to rescue them.
Media reports said train services in Kumamoto, as well as neighboring Nagasaki and Kagoshima prefectures, were halted or largely delayed.
The Meteorological Agency warned of further landslides and flooding in southern Japan through the weekend.
Kumamoto is about 550 miles southwest of Tokyo.