The commute home was a nightmare on Tuesday, as a heavy downpour left flash flooding in its way, closing viaducts, expressway off-ramps and leaving some streets under water.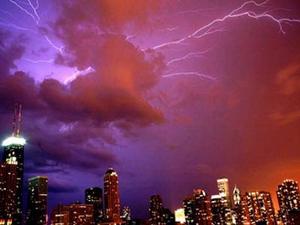 ©Amaris Granado
Showers and thunderstorms developed along a cold front and as it reached 90-degree temperatures in the city, and the storms spurred a flash flood throughout some parts of the Chicago area.
At 3:28 p.m., the National Weather Service radar indicated a severe thunderstorm system on the Northwest Side of Chicago. Around 3:40 p.m. most of downtown Chicago had a dark and gloomy haze surrounding it, making it seem more like night than mid-afternoon.
By 4 p.m., the heaviest rain had subsided, but reports of flooding started coming in from across Chicago.
According to Chicago's Streets & Sanitation Department, there were 74 reports of trees down in the streets, and 44 traffic lights that were out as of 4 p.m. There were five light poles that were damaged, while there were seven reports of wires down.
At Wrigley Field, the heavy rain caused a torrent of water to pour down the stadium's stairs and into its lower levels, leaving standing water in some hallways. Images | Raw Video
At O'Hare, some 45 flights were cancelled. At 4:30 p.m., flight delays were running at about an hour to 90 minutes. At Midway, delays were 30 to 90 minutes. Check flight delays.
Traffic around the area was greatly slowed by the downpour and flooding, but by 5:45 p.m. some of the standing water was beginning to subside.
Lake Shore Drive was a mess after the storm. The on-ramp from North Michigan Avenue was closed due to standing water. Viaducts at Central, Montrose and Diversey were flooded, leaving traffic at a standstill. Some cars were stranded in the high water at the Montrose viaduct, with water up to their windows.
At Irving Park and at Belmont, high water left viaducts flooded and stopped traffic trying to exit Lake Shore Drive. Those viaducts were reopened later Tuesday evening.
Several exits off the Kennedy Expressway were also flooded. At Pulaski, a large portion of the roadway was under water, and traffic was not getting through at 5 p.m. The picture was the same throughout much of the Northwest Side, with parts of many thoroughfares submerged.
Several traffic lights downtown near the NBC Tower were flashing after the storm moved through. But traffic headaches weren't the only result of the storm.
At 3457 N. Kedzie, residents came home to find their basement flooded with waist-deep water. Near Kedzie and Armitage, trees were uprooted by the storm, and one fell on top of a parked minivan.
At Channel 11, the "Chicago Tonight" show was cancelled due to flooded studios, according to the station's Web site.
The severe thunderstorm produced the strongest winds near Lincolnwood and Skokie. NBC5's Brant Miller said the storm produced between 4 and 5 inches of rain for parts of Cook County, but areas to the north barely got any rainfall.
On Tuesday evening, scattered showers and a few thunderstorms will move into the region, according to NWS, adding that residents should expect plenty of clouds as the cold front slides across the Upper Mississippi Valley. Northwest winds, they said, will spread into the area behind the cold front overnight, and low temperatures will be rather mild with readings in the 60s to lower 70s.
Also according to NWS, shower and thunderstorm chances will continue from eastern Iowa into Southern Wisconsin on Wednesday, skies appearing partly sunny as high-pressure builds into the region from southern Canada. It will be cooler than normal with high temperatures in the upper 70s to middle 80s.