Hyderabad: Blinding rain and a ferocious storm have killed at least 32 people in Andhra Pradesh since yesterday morning, most of them in Kurnool where flood waters also entered ancient temples.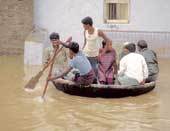 ©AFP
Villagers being rescued from Alampur in Kurnool district on Saturday.
The Jogulamba shrine, a 600-year-old Parvati temple, had knee-deep water inside which reached the sanctum sanctorum. The Balabrahmeswara temple, another of the nine shrines in the Alampur complex dating back to the Chalukya period, was also flooded.
"Water receded this evening," district collector M. Dana Kishore said.
But the relief could be shortlived as more rain is in store. "Heavy rains will lash the state for 24 more hours. Another low depression has formed in the Bay of Bengal and is threatening to turn into a storm by Saturday night," said V.L. Prasada Rao, director of the Visakhapatnam Cyclone Warning Centre.
The nine temples were transplanted brick by brick from their original site at Samgam - the confluence of Krishna and Tungabhadra about 5 km away - to shield them from flooding after the Srisailam reservoir was built upstream. A huge wall was also built along the riverbank to protect the Alampur complex - known as Dakhina Kashi or Dakshin Kailasam - but water appears to have seeped from underneath.
Kurnool district, 225 km southwest of Hyderabad on the Karnataka border, bore the brunt as the Krishna, Tungabhadra and the Kundu overflowed, flooding villages, uprooting trees and electricity poles and breaching irrigation tanks.
The township, modelled on Chandigarh, was submerged. Many of the deaths were by drowning as people were swept away in the floodwaters. Others were struck by lightning.
The coastal districts were evacuated as soon as the tropical storm warning was sounded on Thursday night, limiting the human toll.
With wind speeds at 50 kmph, air services at Visakhapatnam were shut down.
The army has been called in for rescue and relief. Naval helicopters and coast guard boats were searching for fishermen and distributing food, water and medicines to people stranded on rooftops, trees and in buses on highways.
"We have opened 95 relief camps, 32 in Kurnool district alone, to accommodate 56,000 displaced persons and also pressed in 200 medical teams to contain spread of water related diseases," said Preeti Sudan, the disaster management commissioner.
The Chennai-Howrah highway is littered with thousands of stranded vehicles. The highway to Bangalore is also flooded and buses have been asked to take a detour.
"I spent the night on the terrace with my family after flood water gushed into my house," said Musari Venkateswarlu, a schoolteacher at Macherla town in Guntur, which has been under waist-deep water.
Chief minister Y.S. Rajasekhara Reddy said a tank was officially breached in Nandyal to save the town from inundation along with four others in Guntur.