Its waters are already infested by man-eating alligators and razor-toothed sharks, but now Florida residents are being warned of another peril - flying fish.
A prehistoric fish has literally leapt its way to the top of the Sunshine State's wildlife danger list after a series of incidents that have left dozens of river users injured. Officials at Florida's Fish and Wildlife Commission (FFWC) have launched a campaign to warn people that a brush with an "armour plated" sturgeon - an endangered species that dates back 225 million years and can grow to 8ft and weigh 200lb - could send them to the surgeon.
Some of the victims have been knocked overboard, rendered unconscious and even left in a coma after giant Gulf sturgeon jumped out of the Suwannee River and slapped them with their rock-hard scales. Other injuries have included a fractured spine, a collapsed lung, ruptured spleen, slit throat, broken ribs and wounds that have required plastic surgery.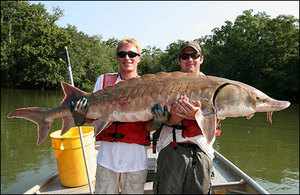 ©unk
Gulf sturgeon can grow to 8ft and weigh 200lb
One woman had to have three fingers re-attached and another amputated, and two men suffered multiple injuries after they accidentally steered their boat into a bridge in an effort to avoid a leaping sturgeon.
"These fish don't mean any harm - it's not an attack so much as a collision," explained Major Bruce Hamlin, regional commander for the FFWC's north-central region.
"At times they are jumping quite frequently and with the low water conditions, people in boats are more confined and the fish are more confined on the same pathways."
He added: "They've got a kind of armour plating that makes their bodies tough. It's as if you were riding a motorcycle at 35 mph and someone threw a 100lb concrete block in your face."
It is not clear what prompts the sturgeons' acrobatics, although their leaping season appears to run from June to August. Some scientists believe the fish use it as a form of communication, others think it is aimed at flushing the gills. Some theorise that sturgeon leap simply because they can.
Ten people were hospitalised with sturgeon-related injuries suffered on the Suwannee River, in the north-west of the state, last year. As this summer's boating season gets under way, two more have been hurt including a woman who was knocked out on her yacht last weekend by a 130lb fish.
"We fear the fish could only just be getting started," said Major Hamlin.
Among last year's victims was Dawn Poirier, 32, a beauty shop owner from Kenneth City, Florida. She was on a boat with her boyfriend when a sturgeon measuring up to 6ft rocketed out of the water, smashing into her face and ripping off the vessel's engine before toppling back and swimming away.
It took two weeks for her to recover consciousness, after which she underwent surgery to reconstruct one side of her face. "I was in a coma. I don't remember 15 days of my life," said the mother of two. "My entire life was changed because of a fish."
Mrs Poirier - who had her jaw wired shut for eight weeks, lost her memory and ran up medical bills of $130,000 (£66,000) - added: "It was like 1,000 razor blades hitting me all at once when that fish jumped. I will never go near that river again."