Steve Henson knew it was raining hard, but when the water rose to within two feet of his house west of Waco on Monday, he decided that he and his expectant wife would head for higher ground.
"I did not want her to go into labor and we wouldn't be able to get out," he said. "There was so much rain, I could not believe it."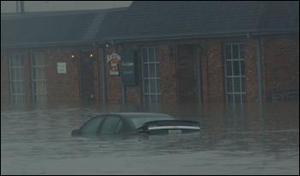 ©Roger Nomer
Water threatens to overtake a stalled car in Joplin, Missouri
Henson took his wife, Amy, to his father's house in Columbus, Kan. On the way, he encountered several places where the road was covered with water.
Waco was hardest hit by a series of thunderstorms that brought from 6 inches to nearly 13 inches of rain to parts of Jasper County.
The National Weather Service said a U.S. Geological Survey gauge near Waco logged 12.98 inches of rain during a 24-hour period that ended Monday.
Other areas of the county received up to 10 inches.
"Most of it fell early this morning," Steve Henson said. "There's a draw next to our house, and it filled with water. There was so much water that came so fast, it built up until it had a chance to get out of there."
Waco Mayor Dimita Doss said: "I know it rained hard because my water gauge overflowed. My driveway was washed out. But it could have been a lot worse for us. We've done a lot of ditch work here in Waco over the last four years."
Possible record?
Though it's not official yet, it appears that Joplin might have set a rainfall record for a 24-hour period.
According to the National Weather Service in Springfield, the record was set on Sept. 30, 1986, when 7.12 inches of rain was logged at the Joplin Municipal Airport. Steve Stockam, manager of the airport, said the airport's weather station recorded 7.6 inches of rain in a 17-hour period that started at 5 p.m. Sunday.
The second-highest rainfall for Joplin was on July 3, 1976, when 6.85 inches fell within 24 hours. The rain flooded downtown Joplin. Jasper County suffered damage of $4.1 million. Bridges and roads in some areas were washed out.
Most of the water from the latest storm is running into Spring River, which reaches flood stage near Waco at 19 feet. The National Weather Service's River Forecast Center said Spring River will crest today at 29 feet at Waco. If that happens, it will be the third-highest crest since 1923. The flood of record was on Sept. 26, 1993, when the crest reached 34.06 feet at Waco.
"This affected the whole Spring River basin," said Doug Cramer, a meteorologist with the weather service in Springfield. "Radar estimates are showing that the vast majority of Jasper County received between 6 to 10 inches of rain. Most of it was north of Interstate 44."
Cramer said several key ingredients came into play to create the record-shattering rainfall. The stage was set when a low-pressure, stationary front stalled over Southeast Kansas and Southwest Missouri. Convection heating on Saturday and Sunday pumped moisture into the stationary front.