Days of torrential rain in southern China have killed 66 people and left 12 missing by last night, according to the Ministry of Civil Affairs.
Nearly 9 million people have been affected.

Floods caused by heavy rains damaged 94,000 houses and destroyed 48,000 in the region; and forced the evacuation of about 591,000 people, a ministry spokesman said.
About 294,800 hectares of crops were affected, of which 53,000 hectares were completely destroyed, he said.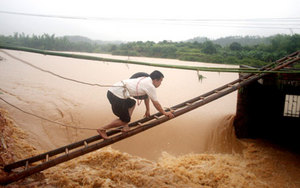 ©Xinhua
A man climbs a ladder to reach a drainage sluice station in Zi Jin County, South China's Guangdong Province June 10, 2007. It is the worst flood to threaten 15 towns of the county in 50 years.
From Wednesday to Saturday, continuous rain, mudslides and floods hit Hunan, Guangdong, Guangxi, Guizhou, Jiangxi and Fujian, affecting more than 8.97 million people.
The State Flood Control and Drought Relief Headquarters said yesterday that Guangdong, Guangxi, Guizhou and Hunan have been hardest hit.
The National Meteorological Center yesterday forecast heavy rain south of the Yangtze River and continued downpours in South China until Thursday.
The headquarters has activated the level-4 emergency response, the highest in the country.
In Guangdong, 14 people were killed in rain-triggered landslides or house collapses till last night, and 1.45 million people in 17 counties have been affected, according to the headquarters.
China Central Television said floods caused direct losses of nearly 100 million yuan ($13 million) in the province.
In neighboring Guangxi Zhuang Autonomous Region, 13 people were killed in torrential rains that began last Wednesday; and 1.97 million people affected.
On Thursday and Friday, when senior high school graduates across the country were taking the annual college entrance examination, thousands of candidates in Quanzhou county of Guangxi had to be moved to backup exam centers as heavy rain submerged their classrooms.
In Central China's Hunan Province, heavy rainfall on the fifth successive day yesterday left three people dead, one missing, 158,000 homeless and affecting more than 1.33 million people in 11 cities and counties.
Direct losses in Guangxi and Hunan are estimated at 449 million yuan ($58.6 million) and 580 million yuan ($75.8 million).
Jiao Meiyan, director of the National Meteorological Center, attributed the continuous heavy rainfall in part to "global climate change".
She also said the country's capability in flood control was improving with "more financial input and more accurate forecasts".
"The number of casualties has been declining in recent years, which is substantial progress in a densely populated nation with very complex climate conditions," she added.
Experts had earlier forecast floods in the middle and lower reaches of the Yangtze River this summer.
Chen Lei, minister of water resources, warned yesterday that the Songhua River in Northeast China's Heilongjiang Province is also likely to be hit by heavy flooding this year.
Xinhua contributed to the story