Snow, heavy rain and strong wind caused travel problems in parts of Wyoming today.
Up to 8 inches of snow fell in the Big Horn Mountains in northern Wyoming and forced highway officials to close a section of U.S. 14A between Burgess Junction and Lovell.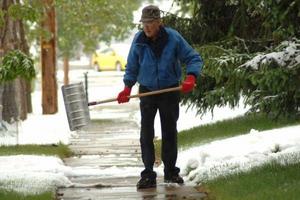 ©Kathy Johnson
No unnecessary travel was recommended for U.S. 14 from Dayton to Burgess Junction.
Ronda Holwell, spokeswoman for the Wyoming Department of Transportation, said up to 8 inches of snow had fallen in the area, causing slick spots and poor visibility.
Snow also fell in the higher elevations of northwest, central and southern Wyoming.
Heavy rain caused local flooding in parts of Campbell County, including Gillette, which has received almost double its precipitation average so far this year. Some streets and roadways were closed.
"We're trying to keep our belongings because they mean a lot to us," Gillette homeowner Terry Friedlan said today. He had been up all night setting up sump pumps and sucking up water in his basement with a wet-dry vacuum.
Local flooding was also reported in neighboring Sheridan County, where the community of Story received about 3.31 inches of precipitation Wednesday and today.
"Everywhere there's a creek, it's starting to flood," Story Volunteer Fire Chief Rex Cahhal said Thursday morning.
Strong winds also caused travel problems. An 88 mph wind gust was recorded near Cheyenne.
WYDOT advised no light trailers on Interstate 80 between Walcott Junction and Laramie and north of Cheyenne on Interstate 25 because of high winds.
The state Highway Patrol reported six accidents where tractor-trailer trucks or trailers being pulled by vehicles were blown over in southeast Wyoming.