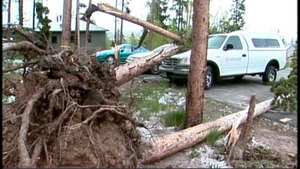 ©KUSA
100 mile an hour winds toppled trees
SUMMIT COUNTY - While wind gusts were blustery on the Front Range, in the high country they were devastating as they swept through mixing with snow fall.
100-mile-an-hour winds in Silverthorne overnight Wednesday had many residents trying to reach their insurance companies Thursday morning.
The high winds uprooted trees, smashing them into windows, on top of roofs and onto cars.
"The wind was whistling. It was howling," said Casey Snyder, a Silverthorne resident. "The trees were all leaning. They were just domino-ing down."
Snyder believes about 20 trees toppled near his home.
Limbs even wrapped around some decks and ripped through boards, which caused what appeared to be extensive damage.
The high winds also blew out windows in several homes in the area.
"(It was like) nothing I'd ever seen," Snyder said.
Damage totals were still being tallied Thursday morning.
No injuries have been reported, but an extensive amount of damage was reported at the Frisco Nordic Center and at the Peak One Campground near the Dillon Reservoir.
Snow also fell in many parts of the high country, with some areas getting as much as 6 inches.