A powerful mudslide has fully changed terrain at one of Kamchatka's most remarkable sites, the Valley of Geysers, eyewitnesses who observed the area from aboard a helicopter just minutes after the slide told Itar-Tass.
No one was killed or injured in the calamity. At the moment when the mudslide went down into the valley, a group of 19 tourists and six members of auxiliary personnel were there.
Eyewitnesses said the stream of mud and rocks destroyed two outbuildings in the lower part of the valley.
Mud fully covered a part of the area where the world-famous geysers are located.
Sources at the Kamchatka region branch of the Emergency Situations Ministry told Itar-Tass all people have been evacuated from the site by helicopters.
At the time of reporting, the authorities were deciding on whether or not to remove the remaining equipment from the valley.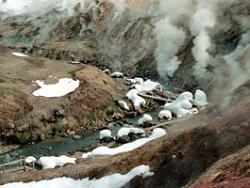 ©unk
Also, they planned to send experts on a helicopter to the site for assessing the size of damage.
The unique Valley of Geysers was discovered in 1941 by Tatiana Ustinova, a hydrology researcher from a nearby wildlife preserve. Her discovery marked the start of a decades-long study of this remarkable natural phenomenon.
The canyon of the River Geysernaya is just four kilometers long but it boasts a concentration of active geysers that belch out jets of boiling water and vapor to the altitude of dozens of meters above the ground.
Each second, the geysers produce 250 liters to 300 liters of hot water and the temperature of soil at the depth of just one meter near the geysers reaches 70 degrees Celsius.
Air temperatures during the winter are 15 degrees to 20 degrees higher inside the valley than outside its boundaries.
The authorities opened the Valley of Geysers for commercial tourists in 1991. The number of visitors coming here annually stands at around 3,000.