A rare Canadian landscape painting has gone from a table at an Ontario yard sale to attracting the attention of art connoisseurs across the country - and will go a long way toward the future education of an unborn child.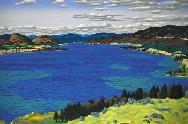 ©CP
Lake Okanagan was painted during E.J. Hughes's prime period after a 1958 Canada Council-funded visit to the B.C. Interior. Paul Martin bought it for $200 six years ago.
A painting by British Columbia artist E. J. Hughes will come under the hammer next week at Heffel Fine Art Auction House, six years after an enterprising art collector found it at a rural yard sale.
The painting, originally purchased for $200 cash, is expected to fetch more than $100,000 at auction.
Paul Martin has been browsing flea markets, thrift stores and garage sales for more than a decade in quest of the art and antiques that fill his Southern Ontario home.
Mr. Martin, a graduate of Sheridan College's illustration program, seeks art as much for its potential monetary value as for the pleasure it gives him and his wife Laura.
"Art's a better investment than most things," Mr. Martin, who asked that his hometown not be revealed to safeguard his art collection, said in an interview.
"If you have a half-decent listed artist, you may be able to hold on to it for a while and sell later down the road for profit."
He first came upon the 81.2-by-121.9-centimetre oil painting of Lake Okanagan in a rural Ontario yard sale. Mr. Martin immediately paid the full asking price before other eager treasure hunters could snap it up.
He remained in the dark about the value of his purchase until he began to research Mr. Hughes, an artist who studied under two members of the Group of Seven and earned national prominence through his depictions of landscapes in his home province.
Mr. Hughes, who was admitted to the Order of Canada in 2001, was one of 18 artists invited to contribute murals to the Canadian Pacific Transcontinental Railway in 1954.
His work was also showcased on a stamp commemorating Canada's 125th anniversary.
Upon realizing that he had stumbled on a rare work, Mr. Martin contacted Heffel Fine Art Auction House to arrange for the sale of the painting.
Heffel president David Heffel went to look at the canvas and was amazed at what he saw.
"I had a bit of an idea what to expect, but as soon as I saw the painting I was very excited," Mr. Heffel said.
"You don't see very many Hughes [paintings], not only of that dramatic vista, but that large format."
Mr. Heffel promptly took the picture away for cleaning and reframing. The result has been on display in Toronto and Montreal in preparation for next week's auction in Vancouver.
Mr. Martin said he experienced a fleeting doubt about selling the Hughes painting when he saw the "stunning" results of the restoration.
Still, the "conservatively estimated" price tag of up to $120,000 will go a long way toward paying the mortgage on Mr. Martin's home and educating his coming child, his first.
His wife is expected to give birth in June, and both Mr. Martin and Mr. Heffel feel the sale could not come at a better time.
Mr. Heffel said he took great pleasure in handling this transaction because of its rarity as well as its human interest.
"I've been looking for a great painting like that. It hasn't happened to me, I don't see it happening to many people," he said.
"There's people that stumble across $20,000 or $30,000 paintings for a few hundred dollars, but with the grandeur of this painting, he was lucky that he saw the opportunity and grasped it."
The painting, along with 218 other works, will be auctioned May 23.
Edward John Hughes
EARLY YEARS
Edward John Hughes was born Feb. 17, 1913, in North Vancouver, and studied art under Group of Seven painter Frederick Varley at the Vancouver School of Applied Art and Design. Bold, strong and accessible, his work was first exhibited at the Vancouver Art Gallery in 1935. His talent caught the eye of another Group of Seven member, Lawren Harris, who recommended him to the National Gallery in Ottawa, to galleries in Toronto and to the judges of the Emily Carr Scholarship. Mr. Hughes was that scholarship's first winner. He served as an official war artist in World War II.
LATER YEARS
In 1951, after seeing one of his paintings, art dealer Max Stern made the trip to Vancouver Island to seek out the artist and sign him up. Mr. Hughes's 35-year relationship with Stern's Dominion Gallery in Montreal no doubt made the artist's life easier and more secure, but art critics now value the works from the early years of that relationship more highly than the later ones. A modest, wry man, appointed to both the Order of Canada and the Order of British Columbia, Mr. Hughes died on Jan 5, 2007, in Duncan, B.C., aged 93.
Val Ross