An investigation into a plugged drainage tile led to the discovery of a dead 7-foot alligator inside a catch basin in southern Adams County.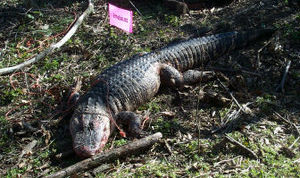 ©Courtesy of Adams County Sheriff's Department
An expert said based on its size (about 7 feet), the Adams County alligator could be 7 to 20 years old.
The alligator, believed to have been dead for at least a week, was found Monday afternoon by employees with the Adams County Surveyor's Office. It is believed the gator caused the plugged drain, sheriff's deputy Larry Butler said.
"At first they thought it was a turtle in there, but then they discovered an alligator," Butler said.
Butler believes the large marine reptile was placed inside the catch basin after it was already dead.
"My gut feeling is that someone put it there to get rid of it," he said.
Alligators can be legally purchased in Indiana, said Greg McCollam, assistant director with the Indiana Department of Natural Resources' Division of Fish and Wildlife. When animals like alligators or venomous snakes grow longer than 5 feet, however, owners are required to apply for a permit with his office, McCollam said. The permits are to notify law enforcement of an animal's presence.
There are no valid permits to maintain an alligator in Adams County, McCollam said.
The sheriff's department is working with the DNR's conservation officers to investigate possible owners of the alligator.
Butler estimated that the dead gator measured more than 7 feet from nose to tail and tipped the scales at more than 120 pounds.
But that weight estimate is on the high side, said gator expert Frank Mazzotti, a wildlife scientist at the University of Florida. An alligator that length would probably weigh less than 100 pounds, unless it was a "fatty," Mazzotti said.
Alligators' normal habitat ranges from the Southeastern coast, such as the Carolinas and Florida, west toward Texas, Mazzotti said. They can survive inland but are limited by the temperature.
"They can withstand being frozen for a short period of time," Mazzotti said. "They have some tolerance for brief cold snaps, even being frozen in the water, ... but prolonged cold spells will kill them."
Mazzotti questioned why anyone would keep such a large reptile as a pet, describing it as an animal that could bite one's hand off, not to mention it defecates copiously. The size of this gator indicates it could have been 7 to 20 years old, Mazzotti said, though it can be hard to tell with an animal likely held in captivity.
Nationally, it is not uncommon for alligators formerly held as pets to be cast off when they get too large, only to be found later in places they shouldn't be, Mazzotti said.
But alligators, crocodiles and caimans are rarely found in northeast Indiana, said Rodney Clear, public information officer for the Department of Natural Resources.
A dead alligator was found lying in a river in Noble County last fall, but it was only about 3 feet long, Clear said.
"Those occurrences are rare, thankfully," Clear said.