The world's youngest surviving baby, born at 21 weeks and six days and weighing just 10 ounces, is due to be discharged from hospital this week after a battle for life described as miraculous.
With feet the size of an adult's little fingernail, Amillia Taylor measured 9.5 inches - not much longer than a ballpoint pen -when she was born at a Florida hospital on October 24.
The odds were stacked against her. Doctors consider babies who weigh less than 14.1 ounces to have no chance of survival. And no infant born before 23 weeks has survived until now.
But defying the odds, Amillia was breathing on her own when she was born by caesarean section and even made several attempts to cry.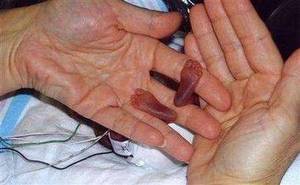 ©unknown
Now, after four months in an incubator at Baptist Children's Hospital in Miami, Amillia has almost tripled in length to 26 inches, weighs 4 1/2 pounds, and is expected to go home with her parents before the end of the week. Doctors say that despite initial respiratory and digestive problems and a mild brain hemorrhage, they foresee no long-term health problems.
"I'm still in amazement," said Sonja Taylor, 37, Amillia's mother, who would still be waiting to give birth had the pregnancy gone to full term.
"It was hard to imagine she would get this far. But now she is beginning to look like a real baby. Even though she's only 4 1/2 pounds, she looks plump to me."
"She's truly a miracle baby," said William Smalling, one of Amillia's doctors. "We weren't too optimistic, but she proved us all wrong."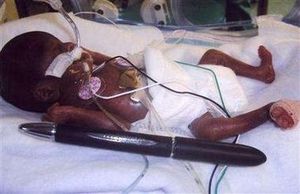 ©unknown
He said caring for an infant so young was uncharted territory. "We didn't even know what a normal blood pressure is for a baby this small."
Amillia, whose name in Latin means "resilient, fighter," was conceived by in-vitro fertilization, which made it possible to pinpoint her exact time in the womb.
She will continue to receive oxygen and have her breathing monitored at home. But this week, she drank from a bottle for the first time.
"She's going to be in a normal crib. She's going to have normal feedings," Dr. Smalling said.