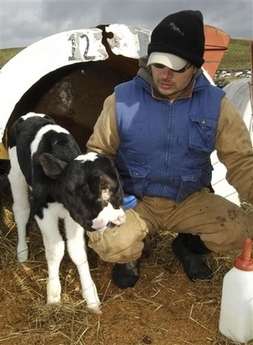 ©AP Photo/Earl Neikirk
Kirk Heldreth, of Heldreth Dairy Farm, watches as Star, his two-faced calf takes a break from feeding on Saturday, Jan. 6, 2007, in Rural Retreat, Va. The calf lost her battle to survive on Friday, Heldreth said.
RURAL RETREAT, Va. - Star, a calf born with two faces in December, has lost her battle to survive. Dairyman Kirk Heldreth said he found the calf's body when he went to the barn Friday morning, and presumes she died from complications related to her deformity.
"She was just laying there like she was sound asleep," he said. "It broke our hearts."
Heldreth didn't expect the calf to live long after her birth Dec. 27, but he and his family grew attached to her as she struggled to live. Despite a malformed mouth with one upper jaw and two lower jaws, Star was able to feed from a bottle.
She had reached 80 pounds, and had seemed in good health in the days before her death, Heldreth said.
The farmer had been accommodating dozens of visitors daily who came to see the calf, prompting him to name her Star.
While he didn't want to put the calf on display while she was alive, Heldreth shipped the body by truck Monday to an upstate New York taxidermist to prepare it for display in one of the Ripley's Believe It or Not museums.
Ripley's will pay for the shipping, but Heldreth said he wasn't asking for any other financial compensation.
"If I had wanted to do that, I would have sold her to the circus a long time ago," he said.
A Ripley's spokesman was not immediately available for comment.