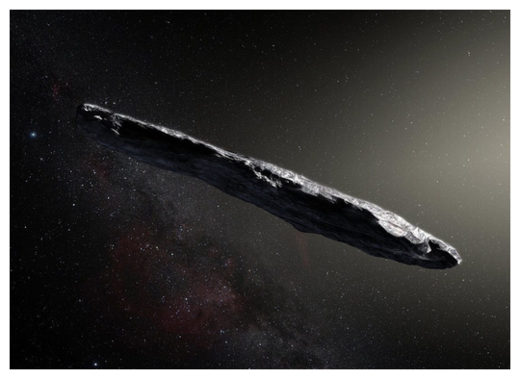 In October astronomers were surprised by a visitor that came racing into our Solar System from interstellar space.
Now, researchers using the Gemini Observatory have determined that the first known object to graze our Solar System from beyond is similar to, but definitely not, your average asteroid or comet. "This thing is an oddball," said Karen Meech of the University of Hawaii's Institute for Astronomy who leads an international team studying this interstellar interloper.
Originally denoted A2017 U1, the body now goes by the Hawaiian name 'Oumuamua, in part because of its discovery by Meech's team using the Pan-STARRS1 survey telescope on Haleakala in Hawai'i. When discovered in mid-October 'Oumuamua was only about 85 times the Earth-Moon distance away and its discovery was announced in early November.
Since its discovery 'Oumuamua has faded from view. The object's rapidly increasing distance from the Earth and Sun now makes it too faint to be studied by even the largest telescopes.
"Needless to say, we dropped everything so we could quickly point the Gemini telescopes at this object immediately after its discovery," said Gemini Director Laura Ferrarese who coordinated the Gemini South observations for Meech's group.