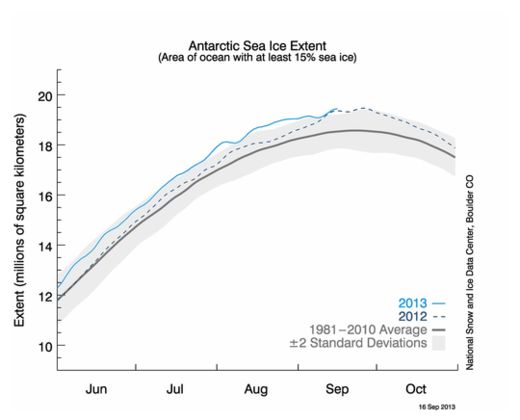 Sea ice surrounding Antarctica hit a record high in August and is on track for another record-breaking month in September. Clocking in at a stunning 7.2 million square miles (18.7 million square kilometers), last month's sea ice extent was 4.5 percent above the 1981 to 2010 average and the largest extent since record-keeping started in 1979, according to data released today from the National Oceanic and Atmospheric Administration in its monthly State of the Climate Report.
September marks the end of Antarctica's winter, and daily sea ice reports posted online at the National Snow & Ice Data Center (NSIDC) in Boulder, Colo., suggest the growing ice pack has already smashed the
all-time record ice extent
set in September 2012. This year's massive sea ice reached 7.53 million square miles (19.51 million square km) on Sept. 14, 2013, the NSIDC reports.
The old record was 7.51 million square miles (19.44) million square km. The data is preliminary and the NSIDC website came back online yesterday (Sept. 16) after a three-day shutdown due to the Colorado flooding disaster.