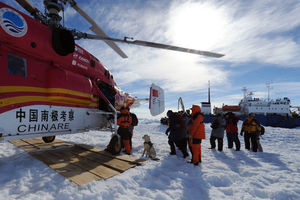 Antarctic expeditioners rescued by an Australian icebreaker have apologised for an operation that could cost taxpayers up to $2.4 million.
Fifty-two passengers rescued from a Russian ship trapped in sea ice have arrived in Hobart aboard the Australian Antarctic vessel Aurora Australis, nearly three weeks after the emergency began.
The MV Akademik Shokalskiy, chartered by the Australasian Antarctic Expedition to retrace the steps of explorer Sir Douglas Mawson, became stuck in thick sea ice on Christmas Eve.
"We're incredibly grateful to everyone who's come out to help us," leader of the privately funded expedition, Professor Chris Turney, told a media conference in Hobart.
"We are terribly sorry for any impact that it might have had on fellow colleagues whose work has been delayed.
"Any experienced Antarctic scientist knows that's an inherent risk."

Comment: And no, Chris Turney aka "the Penguin" is no experienced Antarctic scientist unless we add political scientists and spin doctors into the equation.


Australian Antarctic Division (AAD) director Dr Tony Fleming said costs were still being determined but could range from $1.8 million to $2.4 million.
He said fuel, supplies, staff and the charter of the Aurora would all contribute.
Costs associated with delays to scientific programs, including a major study of ocean acidification scheduled for next year, were harder to pin down, Dr Fleming said.
"The government will be pursuing all avenues to recover costs and minimise the burden to the Australian taxpayer," he said.
The AAD is now in discussions with the insurers of the ship and the expedition organisers, the University of NSW.
The Shokalskiy's captain sent out a distress call when he became concerned about icebergs near Commonwealth Bay, and became stuck in the ice.
After the failure of initial attempts by icebreakers to reach the trapped ship, the passengers were eventually airlifted by a Chinese chopper to the Aurora in a rescue involving four nations.
Professor Turney said the expedition had not taken unnecessary risks.
"It was an extreme event and it caught us," he said.
It was too early to say whether the expedition would pay any of the cost of the rescue
, he said.