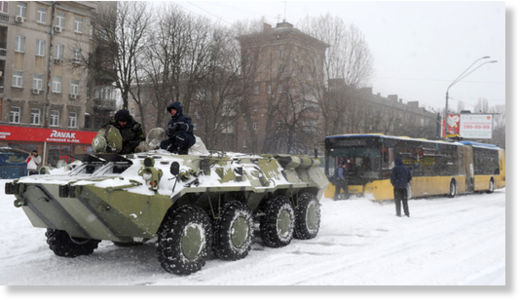 A state of emergency has been declared in Ukrainian capital, Kiev, on Saturday as the city is paralyzed by heavy snowfall and blizzard totally abnormal for March.
"Due to the deterioration of weather conditions [heavy snowfall, blizzards, snow-banks] a state of emergency is declared in the capital,"
the statement by the Kiev State Administration said.
The situation in the city is so dire that Ukrainian President Viktor Yanukovich has signed a special decree urging all government agencies to provide maximum assistance to victims of the snowstorm.
The military is also involved in rescuing the city from its snowbound condition as 550 servicemen are deployed to the capital to aid the community services.
Besides 253 snow-cleaning vehicles, 13 armored fighting vehicles are being used to tow stranded cars, with 270 trucks, 540 cars, 83 buses and 15 trolleybuses already removed from snow banks.