Britain will be colder than parts of Greenland this Easter with temp­eratures plunging to an Arctic -10C (14F).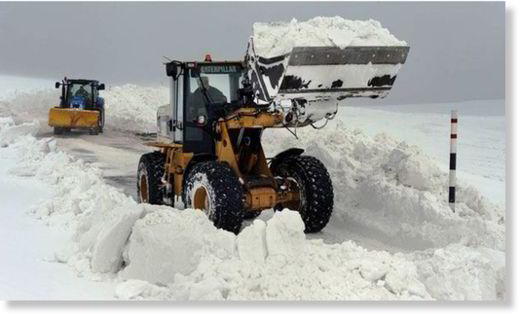 Though the clocks go forward tomorrow night, marking the start of British Summer Time, there is no end in sight to the bitter weather.
This has already been the coldest March since 1962, the Met Office confirmed yesterday, and the fourth coldest since records began.
Instead of spending the four-day Bank Holiday pottering in the garden or driving to the coast, people are being advised to wrap up warm and stay indoors.
Millions have given up hope of spring arriving and are jetting off for some much-needed sun. And some are still digging themselves out after being marooned by
20ft snowdrifts.
Parts of the UK are likely to see a white Easter with wintry showers forecast for eastern areas, though these are likely to be isolated and the snow should be fairly light.
By Sunday and Monday much of Britain may look sunny and spring-like but will still feel unseasonably chilly. And the snowdrifts could remain well into April.