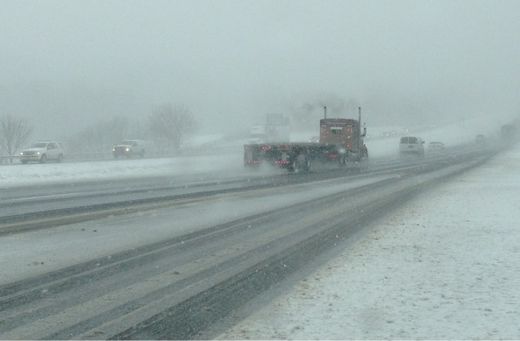 The snow that swept over Washington on Tuesday in predicted fashion found the region hunkered down and ready, as hundreds of thousands stayed home from work and school, extending their long weekend by another day.
The Washington Post's
Capital Weather Gang
said the snow would continue into the evening, with the heaviest wallop around noon. Total accumulation was expected to be
four to seven inches
.
Thousands of flights were canceled across the country Tuesday as a heavy snowstorm spread through the Washington area and much of the Northeast corridor.
By midmorning, more than 2,800 flights were canceled and 1,400 were delayed across the country, according to
FlightAware
. In the D.C. region, 101 flights were canceled at Baltimore-Washington International Marshall Airport, 112 were canceled at Dulles International Airport and 173 were canceled at Reagan National Airport.
The northeastern part of the United States, including Philadelphia, New York and Boston, is expected to get more than 10 inches of snow.
Washington-area schools, the federal government and some local governments
closed in anticipation
of the storm. Others that opened - like Arlington and Anne Arundel counties - closed early. Scores of meetings and events that hadn't already been canceled Monday announced postponements throughout the morning.
Temperatures fell rapidly through the morning, and forecasters said snow would accumulate as road and grass temperatures dropped.
"We need cars off the road," D.C. Police Chief Cathy L. Lanier said on the Bruce DePuyt show on News Channel 8. "Once we start having cars out there that get stuck and start sliding, you have police cars and ambulances that can't get from place to place."
Road crews in the area had begun mobilizing late Monday and were out Tuesday morning pre-treating road surfaces. "Today will be very challenging for highway workers and travelers with the snow falling along with temperatures and expected high winds," Maryland State Highway Administrator Melinda B. Peters said.
In Northeast Washington,
homeless families
began congregating outside the Virginia Williams Family Resource Center early Tuesday,
hoping to secure a spot in already-crowded family shelters.
Shortly after 8 a.m., a city official who declined to be identified announced that the building was closed in anticipation of the snow and freezing weather.
"So what are we supposed to do now?"
one homeless woman asked. "There are kids out here. There's a baby in a car seat. Where are we supposed to go?"
The official told the families to call the city's shelter hotline.
Several families did call, answering a battery of questions to prove that they were truly homeless. Then they were told to wait.
The city guarantees shelter to homeless residents only when temperatures fall below 32 degrees.
Throughout the morning, the temperature in the District was between 34 and 37 degrees.
Many of the families, dragging their belongings in plastic bags or duffel bags, decided to keep warm in their cars, or headed to a nearby McDonald's.
All they could do was wait for it to get colder.
In Virginia's 33rd Senate district, a
special election to fill a vacant seat
went ahead as scheduled, despite the forecast. Elections officials urged voters to cast ballots early, before the weather worsened.
Metro was operating on schedule Tuesday but canceled its door-to-door bus service for those with disabilities. The transit agency warned that it might reduce service levels later in the day because of anticipated "low ridership and deteriorating weather conditions." Metro's buses could experience delays or take detours.
The transit agency said it will send out a three-hour notice to its riders before it suspends service if that becomes necessary.
MARC and VRE trains were operating on abbreviated schedules because of the anticipated weather.
Amtrak said that it planned to run a normal schedule in the Northeast, although it warned that the weather could create some delays. The rail agency reduced service between Washington and Boston during the winter storm that shrouded much of the Northeast in snow and brutal cold earlier this month, running fewer Acela and Northeast Regional trains along that route.
At the ACE Hardware store in Tenleytown, a line formed outside the door before it even opened at 8 a.m. Within an hour, all but one sled was gone.
Anthony Ashe and his son, Anthony, 12, of Chevy Chase took two of the last few sleds.
"We figure we will try to have a little bit of fun!" said the father. His son was eager to go to a local park Tuesday afternoon for sledding.
Inside the ACE store, workers kept restocking front shelves with ice-melting chemicals, shovels and firewood.
Teresa Falco and husband Augusto Pellarini, of Northwest Washington, left the store with firewood, a couple of shovels and an ice-melting mixture. Their four young children were at home and already looking forward to the snow, they said.
"This morning they were ecstatic," Falco said.
The couple made their trip to the hardware store early to make sure they found what they need. "They still have everything, but it looks like it is running out," Pellarini said.
A native of Germany, he said, he is used to big snowstorms and driving in the snow. But he wanted to be prepared, recalling the huge storm in the District in 2010 that kept him and his family cooped up at home for a week.
"It doesn't look like it's going to be that bad this time, but you never know," Falco said. "We have food to last us a few days."
Lori Aratani, Peter Hermann, Luz Lazo and Debbi Wilgoren contributed to this report.