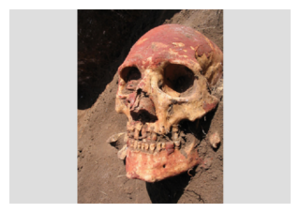 The germ that causes the plague began infecting humans thousands of years earlier than scientists had previously thought.
Researchers analyzed teeth from the remains of 101 individuals that were collected from a variety of museums and archaeological excavations. They found DNA of the
bacterium that causes plague
, called
Yersinia pestis,
in seven of these people.
The earliest sample that had plague DNA was from Bronze Age Siberia, and dated back to 2794 B.C., and the latest specimen with plague, from early Iron Age Armenia, dated back to 951 B.C.
Previously, the oldest direct molecular evidence that this bacterium infected humans was only about 1,500 years old.
"We were able to find genuine
Yersinia pestis DNA
in our samples 3,000 years earlier than what had previously been shown," said Simon Rasmussen, a lead author of the study and a bioinformatician at the Technical University of Denmark.
The finding suggests that plague might be responsible for mysterious epidemics that helped end the Classical period of
ancient Greece
and undermined the Imperial Roman army, the researchers said.
The new study also sheds light on how plague bacteria have evolved over time, and on how it and other diseases might evolve in the future, the investigators added.
Plague is a lethal disease so infamous that it has become synonymous with any dangerous, widespread contagion. It was one of the first known biological weapons — for instance, in 1346, Mongols catapulted plague victims into the Crimean city of Caffa, according to a 14th-century Italian memoir. The germ is carried and spread by fleas, as well as person-to-person contact.
Yersinia pestis
has been linked with at least two of the most devastating pandemics in recorded history. One, the Great Plague, which lasted from the 14th to 17th centuries, included the notorious epidemic known as the Black Death, which may have killed up to half of Europe's population at the time.