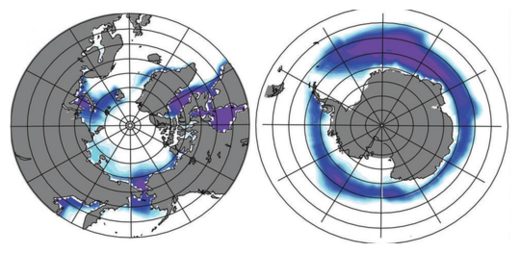 Providence, R.I. — Earth is currently in what climatologists call an interglacial period, a warm pulse between long, cold ice ages when glaciers dominate our planet's higher latitudes. For the past million years, these glacial-interglacial cycles have repeated roughly on a 100,000-year cycle. Now a team of Brown University researchers has a new explanation for that timing and why the cycle was different before a million years ago.
Using a set of computer simulations, the researchers show that two periodic variations in Earth's orbit combine on a 100,000-year cycle to cause an expansion of sea ice in the Southern Hemisphere.
Compared to open ocean waters, that ice reflects more of the sun's rays back into space, substantially reducing the amount of solar energy the planet absorbs. As a result, global temperature cools.
"The 100,000-year pace of glacial-interglacial periods has been difficult to explain," said Jung-Eun Lee, an assistant professor in Brown's Department of Earth, Environmental and Planetary Studies and the study's lead author. "What we were able to show is the importance of sea ice in the Southern Hemisphere along with orbital forcings in setting the pace for the glacial-interglacial cycle."
The research is published in the journal
Geophysical Research Letters
.