[Note: This article appeared in issue 12 of
The Dot Connector Magazine
. Part 2 will appear in Issue 13, coming soon! Get your subscription today!]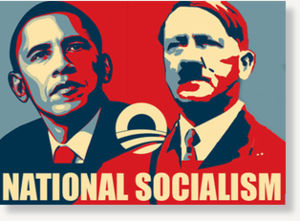 "Today Christians ... stand at the head of [this country]... I pledge that I never will tie myself to parties who want to destroy Christianity .. We want to fill our culture again with the Christian spirit ... We want to burn out all the recent immoral developments in literature, in the theater, and in the press - in short, we want to burn out the poison of immorality which has entered into our whole life and culture as a result of liberal excess during the past ... (few) years."
- Adolf Hitler
Since WWII, many people, groups and nations have been compared to the Nazi regime and the personalities therein. In fact, the analogy is overdone in American culture to the point of being meaningless. There is even a satirical law called Godwin's Law which states that "
as an online discussion grows longer, the probability of a comparison involving the Nazis goes to 1
." This is quite true. I've witnessed this law in action in online discussions, and it tends to be sardonically humorous when somebody calls it out. Despite the comedic value, the main point Godwin makes is that many Nazi comparisons tend to be baseless, and many others employ a good deal of pseudo-logic. A better understanding of history, while fostering a saner world, would probably prevent a good deal of invocations of Godwin's Law too.
When it comes to bad Nazi comparisons, few have been more boisterous and outright buffoonish than the vituperations of Tea Party mouthpiece and Fox News host Glenn Beck. One of Beck's recent Nazi comparisons involved taking a closer look at the concept of empathy in politics and - get this - how Hitler used 'empathy' to euthanize baby Knauer, a child born with significant birth defects in 1938 Germany, amid the debate over Hitler's eugenics policies. Beck's conclusion: "Empathy leads you to bad decisions every time." While Glenn Beck's logic is certainly twisted, I think we can safely say that he takes Godwin's Law to new heights.