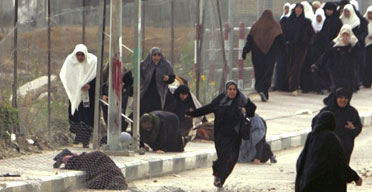 The scene near a mosque in the Gaza town of Beit Hanoun after Israeli troops opened fire on a group of Palestinian women, killing one of them (see here) and injuring 10 others. The mosque had been the scene of an Israeli siege after a group of men, presumed to be armed, took refuge there. Photograph: Suhaib Salem/Reuters
This story should come as no surprise to anyone. Successive Israeli governments have given ample evidence over the past 60 years that, in their opinion, Palestinian life is worth little more than that of the animals that extreme orthodox Jews sacrifice to their destroyer god "Yahweh". Indeed, at least on a symbolic level, the murder of Palestinian men, women and children by Israeli soldiers is seen by Zionists as a similar type of blood offering to the all-too-human "god" that "promised them Palestine" 2,500 years ago.
With such callous disregard for the life of other human beings, what does anyone expect the end result of the manufactured "Middle East crisis" to be, other than the murder of probably millions of innocent people, Arabs and Jews alike, with only the Zionist leaders escaping unscathed, as always.