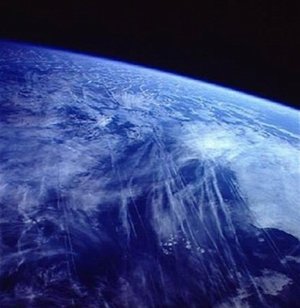 A few things that should be considered when talking about so-called "chemtrails":
1)
Obviously, there is some "spraying" that goes on and it's not for the benefit of humanity. I've heard a few stories from people about very low flying planes dispersing stuff that lands all over everything or makes people sick. And I do mean LOW flying.
2)
Spraying that actually affects a designated area beneath the sprayer (the plane in question) must be at a fairly low altitude otherwise what is sprayed will not come down on the area beneath the spraying. This is due to the fact that our atmosphere has a number of layers and each layer has its own temperature and wind speed and direction, and very often, things in one layer take a very long time and distance to mix or mingle with other layers, IF they mix at all. Usually, the wind speeds in the upper layers are such that anything deposited there might only penetrate to lower, weather, layers, after many thousands of miles of travel. It's a very nonlinear situation and highly, impossibly, unpredictable.
3)
So, if you are talking about chemical spraying that you can see above in the sky, that then falls on the area below it, you
must
be talking about low altitude spraying.
4)
Therefore, trails that are very high in the sky that have no hope of ever interacting with the ground below them cannot properly be called "chemtrails" except, perhaps, if a chemical is being sprayed that is supposed to affect the weather (and even that is done fairly low). Cloud seeding is done by dispersing elements such as dry ice crystals or silver iodide in the atmosphere with an airplane or even ground based stations. Seeding clouds is believed to promote condensation of water droplets, thus, rain.