[This article originally appeared in Issue 13 of Sott.net's
The Dot Connector Magazine
]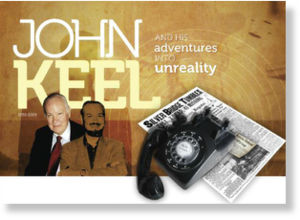 "If there is a universal mind, must it be sane?" - Charles Fort
On the fateful evening of December 15th, 1967, the Silver Bridge in Point Pleasant, West Virginia collapsed from structural failures during full rush hour traffic. The incident killed 46 people, many of whom were holiday shoppers; most of these people died trapped in their cars under the weight of the iron bridge beams, submerged in the icy December waters. The tragedy made national headlines and put the little town of Point Pleasant on the map and in the minds of many that holiday season.
While the collapsed bridge was certainly the climactic event for the residents of Point Pleasant that year, there were many preternatural events leading up to this. UFO sightings and other high strangeness were endemic across the Ohio River region that year. These sightings and stories were later documented by John Keel in his book
The Mothman Prophecies
.
1967 was a pivotal year for UFOs and related phenomena. Reports of UFO sightings poured in from all across the United States; others were reported as far away as South America and Russia (adding a new dimension to those who believed that UFOs were of Communist origins). The very first publication of an alien abduction case (the infamous Hill abduction) was presented in the book
Interrupted Journey
by John Fuller just a year prior to this. Men-In-Black (MIB) reports came into focus for the first time, along with cases of animal mutilation. Sightings of humanoid-type beings associated with UFOs were popping up all over the world.