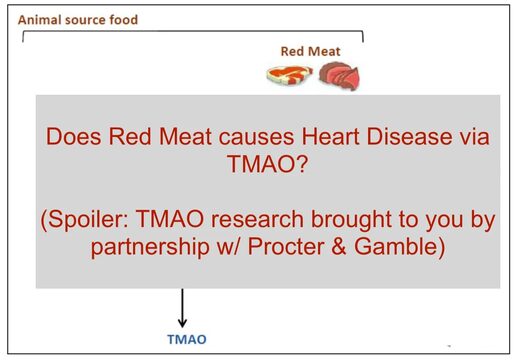 A new study
out of Tufts University led to a multitude of fresh headlines that meat increases the risk of heart disease. It would seem that the danger of meat is now a foregone conclusion, but this paper, like so many others, is marred by significant scientific missteps and financial conflicts of interest, including a drug-development program at the Cleveland Clinic, funded in part by Procter & Gamble.
On scientific grounds alone, the paper is less-than convincing:
Its findings are based on a low-quality type of data that, on the whole, can only show associations, not cause-and-effect relationships. What's more, the associations reported are tiny: 1.15 for unprocessed red meat, 1.22 for total meat, and 1.18 for all animal foods. These numbers are close to 1 (= zero risk), and they're all well below the threshold for ruling out other possible explanations for the observed results.
Further, the study blames a metabolite called TMAO (trimethylamine N-oxide) for red meat's apparent harms, but
the food that
most
boosts TMAO is not red meat, but fish!