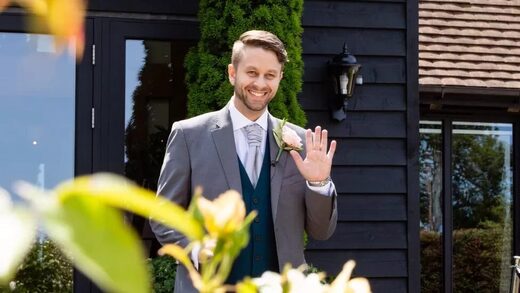 The death of a psychologist after his Oxford-AstraZeneca Covid-19 jab was due to "unintended complications of the vaccine", an inquest has ruled.
Stephen Wright, an NHS employee in south-east London, died 10 days after his first dose in January 2021, senior coroner Andrew Harris found.
Dr Wright, 32, suffered a blood clot to the brain after receiving the vaccine.
His wife Charlotte has been trying to get the "natural causes" wording on her husband's death certificate changed.
She is pursuing legal action against the pharmaceutical company, along with dozens of other people.
At London Inner South Coroner's Court, Mr Harris described it as a "very unusual and deeply tragic case".

Comment: How 'unusual' is 'very unusual'? Seems pretty common, from these seats.



Dr Wright suffered from a combination of a brainstem infarction, bleed on the brain and "vaccine-induced thrombosis", the inquest heard. His condition rapidly worsened, but the nature of the bleed meant he was unfit for surgery.
After the inquest, Mrs Wright, from Sevenoaks in Kent, said: "It was made clear that Stephen was [previously] fit and healthy and that his death was by vaccination of AstraZeneca. For us, it allows us to be able to continue our litigation against AstraZeneca. This is the written proof."
Speaking to BBC Radio 4's World at One, Mrs Wright agreed that some people had not been prepared to listen to her over how her husband had died. She said: "Even with people in my life, there were questions and queries about whether I was actually telling the truth so, two years later, I can finally say it is the truth."
Dr Wright's mother, Anne Wright, revealed he had been due to start a job at Great Ormond Street Hospital in London the week after he died. She said: "He loved his job, he loved the children he worked with, he loved the young people, and he had a real empathy with them and they really seemed to get on with him."
Speaking about the coroner's ruling, mother-of-two Charlotte Wright said: "It provides relief but it doesn't provide closure. I think we're only going to get that when we have an answer from AstraZeneca and the government."
She added: "I find it very comforting that I have two boys that remind me of him every day. I'm just very thankful that I got to marry such a great man and raise our boys in his honour."
When he outlined the facts of the case, senior coroner Mr Harris told the court it was "very important to record as fact that it is the AstraZeneca vaccine - but that is different from blaming AstraZeneca". He added: "It seems to me that there is not an action one can take at the moment."
Responding to the coroner's findings, an AstraZeneca (AZ) spokesman said "the benefits of vaccination outweigh the risks of extremely rare potential side effects".
He added: "We are very saddened by Stephen Wright's death and extend our deepest sympathies to his family for their loss. Patient safety is our highest priority and regulatory authorities have clear and stringent standards to ensure the safe use of all medicines, including vaccines."
Complex chain reaction
Mrs Wright, who was on maternity leave when her husband died, said that before she received £120,000 from the government's Vaccine Damage Payment Scheme (VDPS) in August, she had used food banks to help support her children, now aged nine and three.
Up to 21 March, only 63 out of 4,178 claims received by the VDPS had led to payments,
according to NHS figures
.
From May 2021, the AZ jab was no longer offered to adults under 40
after it became clear the vaccine carried an extremely rare risk of blood clots which could be fatal
.

Comment: What's the difference between 'very rare' and 'extremely rare'?


Research into why that happens suggests
a part of the AZ vaccine can trigger a complex chain reaction
involving the immune system which can then result in clots developing in very rare circumstances.
The UK medicines safety regulator, the MHRA (Medicines and Healthcare products Regulatory Agency), continues to monitor the effects of the AZ vaccine as well as all other Covid vaccines.
Side effects of the AZ jab can include changes to the heartbeat, shortness of breath and swelling of the lips, face or throat,
according to the UK government.
It estimates the vaccine programme prevented more than 100,000 deaths and more than 200,000 hospitalisations from Covid during the first eight months of the rollout in 2021.
According to a study in the Lancet
, Covid vaccinations - many of which would have been AZ jabs - prevented 14 million deaths in 185 countries between December 2020 and December 2021.
Out of more than 50 million first and second doses of the AZ vaccine administered, there have been 1,300 reports to the regulator of suspected deaths after taking the jab. The MHRA has always said that the benefits of any vaccines or medicines must outweigh their risks.
Speaking to the BBC last year, Mrs Wright said of her husband: "Being in the profession he was in, I truly believe that if he had been told all of the possible reactions, he would have still taken it [the vaccine] because I am aware it is a rare situation."
A Department of Health and Social Care spokesman said: "More than 144 million Covid vaccines have been given in England, which has helped the country to live with Covid and saved thousands of lives.
"All vaccines being used in the UK have undergone robust clinical trials and have met the MHRA's strict standards of safety, effectiveness and quality.
"The vaccine damage payments scheme provides financial support to help ease the burden on individuals who have, in extremely rare circumstances, been severely disabled or died due to receiving a government-recommended vaccine."